The fastest front-wheel drive car in Nurburgring has made its debut in Malaysia. This evening, TC Euro Cars officially launched the new Renault Megane R.S. 265 Cup at Renault Petaling Jaya (PJ) Showroom with a price tag of RM 235,000 on-the-road before insurance.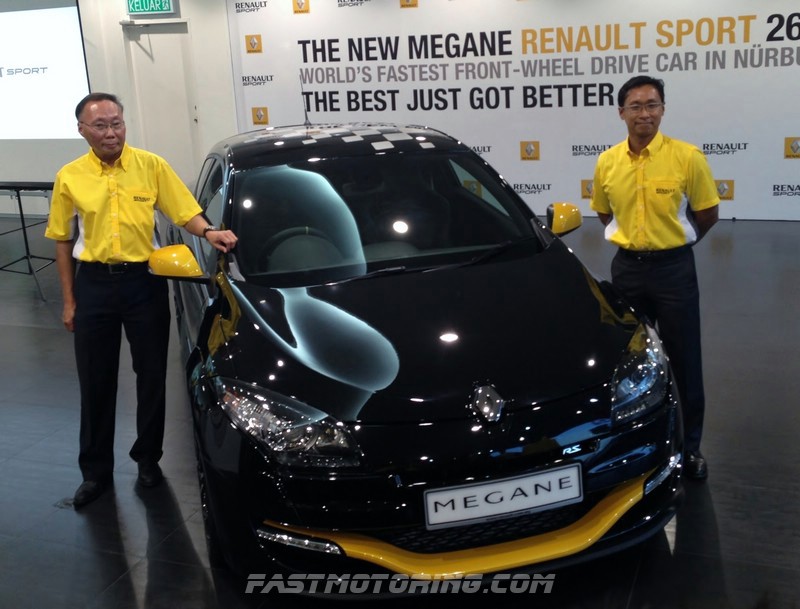 At the same time, TC Euro Cars took chance to brought in 5 units of the exclusive Renault Megane R.S. 265 Red Bull RB7 Limited Edition out from 522 units worldwide. This limited edition car is priced at RM 250,000 on-the-road before insurance. Exclusive for Malaysian market, all 5 examples of R.S. 265 RB7 Edition will received a signed plaque by F1 Champion, Sebastian Vettel.
Tested by Denis Lian – Former A1-GP Team Singapore Driver, the new Megane RS 265 Cup has set a new record of 2 minutes 41 seconds around Sepang International Circuit. This is against the 2 minutes 43 seconds set in 2010 with the Megane RS 250 Cup.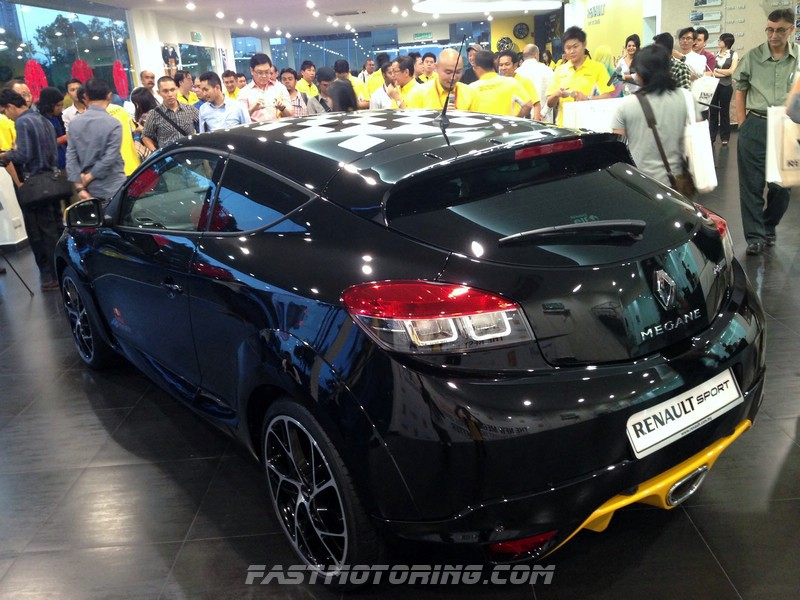 The maximum power of the new Renault Megane R.S. 265 Cup is now increased from 250hp to 265hp and peak torque up from 340Nm to 360Nm, comparing to its predecessor – Megane R.S. 250 Cup. The Megane R.S.'s 2.0-litre turbocharged engine received a tweak on the turbocharger from 2.3 bar to 2.5 bar. The air intake design has been revised to take the higher pressure and higher running temperatures after uprating the engine performance. The Brembo brake callipers and 340mm diameter ventilated discs at the front are remained the same.
Thanks to the additional 15hp, the R.S. 265 Cup now takes 0-100km/h from 6.1 seconds to 6.0 seconds, a top speed of 250km/h and the 1,000m standing start in 25.4 seconds (down 0.3 seconds). The fuel efficiency has been optimised to return combined-cycle fuel consumption of 8.2 litres/100km, equivalent to 190g of CO2/km, which represents a savings of 0.1 litres/100km and 5g/km over Megane R.S. 250 Cup.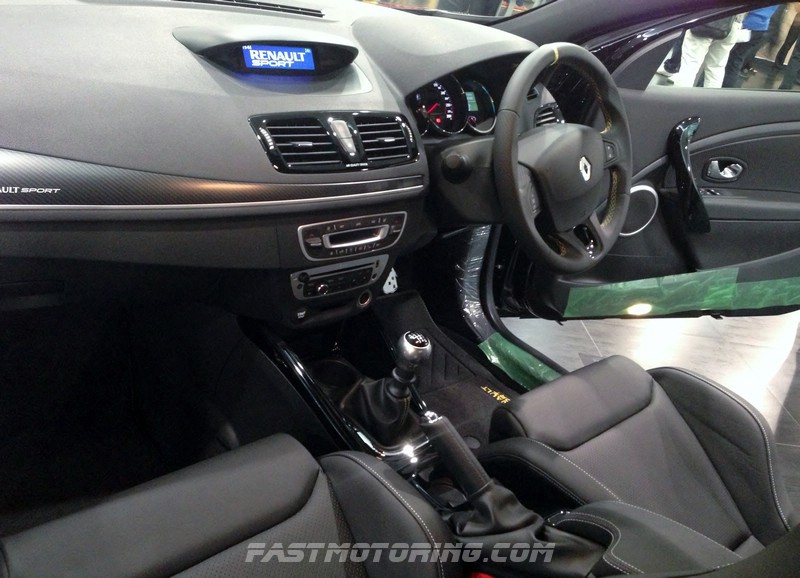 In terms of looks, the front end of the new R.S. 265 Cup is now added with two rows of 6 LEDs and darkened headlight masks. This car is fitted with a new 18-inch matt black "Tibor" alloy wheels as standard. Interior wise, a black lacquer finish for the centre console and air vents surrounds, plus a carbon-effect finish to the door panel inserts and Recaro bucket seats.
By switching 'On' the R.S. Dynamic Management with a push of a button, the R.S. 265 Cup can trim the performance from 265hp to 250hp, 360Nm of torque to 340Nm for smoother acceleration for daily use. Whenever you feel for more, you can switch it to 'Sport Mode' for swifter engine response with a max power of 265hp and torque of 360Nm. For "naughtier" drive, the driver can switch it to 'Off Mode' to enjoy the max power like the 'Sport Mode' and fully disconnect the electronic stability programme (ESP).
The new Megane R.S. 265 Cup is available for viewing at Renault PJ Showroom from today. Moreover, TC Euro Cars have 3 unregistered units of the Megane R.S. 250 Cup left in stock.
Photo Gallery: Renault Megane R.S. 265 Red Bull RB7 Limited Edition Unveiled in Malaysia
[nggallery id=603]