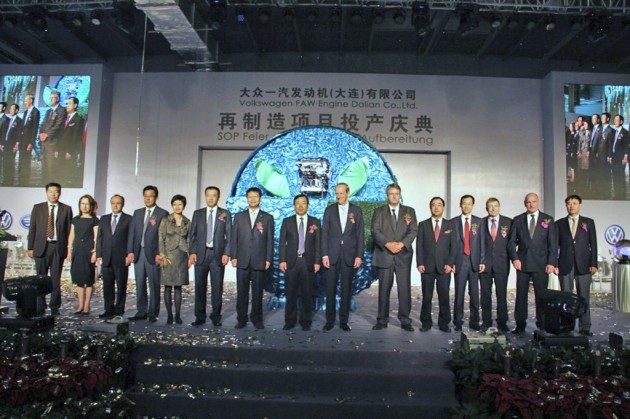 Volkswagen Group is promoting cost-effective, environmentally compatible solutions in China by opening an engine reprocessing facility. There will be 15,000 engines per year are to be reprocessed at the plant in Dalian. The reprocessed engines will allow Chinese car drivers to benefit for the first time from genuine Volkswagen parts that are up to 50% less expensive. 
So far, Volkswagen Group China and its partner FAW have invested 100 million RMB (10.9 million euros) in reprocessing facilities at Dalian. "The new facility is a further milestone for Volkswagen in China," said Dr. Karl-Thomas Neumann, President and CEO of Volkswagen Group China, at the inauguration ceremony. He added that Volkswagen was consistently pursuing sustainability, i.e. the responsible use of raw materials and energy, in China. As 70% of the materials in an engine can be reused, engine reprocessing also saves large quantities of raw materials such as steel. "Volkswagen is making a key contribution to environmental protection and resource conservation, which is especially important in a country such as China where there is such a high demand for raw materials."
In Germany, the Volkswagen Group already has more than 60 years of experience in the reprocessing of components. The unique reprocessing plant at Kassel achieves the same quality as in the production of new components and is the model for engine reprocessing at Dalian. In Europe, genuine reprocessed parts are in greater demand than ever before as a result of growing environmental awareness and price sensitivity.
The project in China is the Group's first reprocessing facility outside Germany. The next step will be the expansion of activities at Dalian to include other engine models as well as transmissions. In addition, a test centre to test engines and transmissions with reference to Chinese driving habits will be established in the future.