Rental car company Hertz Global Holdings and General Electric plan to partner in offering electric vehicles in China and expanding the charging networks needed to run them.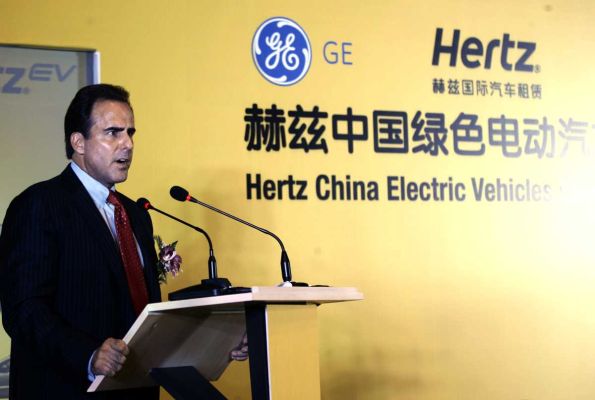 An agreement signed in Shanghai's "Auto City" of Anting on Wednesday calls for building hundreds of charging stations in major Chinese cities including Shanghai and Beijing, Hertz executives said.
The plan aligns with the government's effort to promote commercialization of new energy vehicles as a way to reduce oil imports and help to reduce carbon footprint. Setting up the infrastructure to charge such vehicles is viewed as a key hurdle toward enticing consumers to switch from cars that run on gasoline or diesel to electric vehicles.
"Working with our existing rental car network in China and partners such as GE, we are dedicated to helping build the necessary EV infrastructure in China and to create a new transportation solution that employs the latest technology and harnesses innovations being launched in China today," said Mark P. Frissora, Hertz's chairman and CEO.
The government has included building up the electric vehicle industry in its current five-year economic blueprint but despite its ambitious plans such vehicles are still a negligible part of China's auto sales due to their high cost and inconvenience compared with regular vehicles.