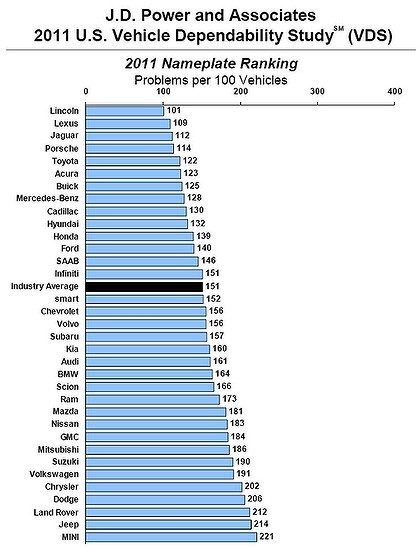 The above is the report from J.D. Power and Associates – 2011 U.S. Vehicle Dependability Study (VDS). The statistics is work based on Problem per 100 Vehicles in North America.
Based on the reliability survey ranks Mini last and it is not surprising us that Porsche is more reliable than Toyota. Frankly, the real Porsche is really solid and durable on the road even with regular track day.
Automakers that above Industry average standards in US are like Infiniti (luxury brand of Nissan in US), Saab, Ford, Honda, Hyundai, Cadillac, Mercedes-Benz, Buick, Acura (luxury brand of Honda in US), Toyota, Porsche, Jaguar, Lexus and Lincoln.
Automakers that below industry average standards in US are like Smart, Chevrolet, Volvo, Subaru, Kia, Audi, BMW, Scion (slightly economical brand of Toyota), Ram, Mazda, Nissan, GMC, Mitsubishi, Suzuki, Volkswagen, Chrysler, Dodge, Land Rover, Jeep and MINI.
Cars that below industry average standards that did not surprise us are like BMW, Chevrolet, Land Rover and Kia. But we are doubtful that why Volkswagen and Volvo are under that category. Maybe FastMotoring shall conduct one survey in Malaysia to share with our valued readers.