Proton  recalls 16,000 cars over clock spring defect that has raised some safety concerns. The affected models are Proton Satria Neo and Proton Gen2 equipped with the auto-cruise function, manufactured between April, 2004 to June, 2008. In another words, most of the affected model are the H-Line models Auto models.
What is Clock Spring?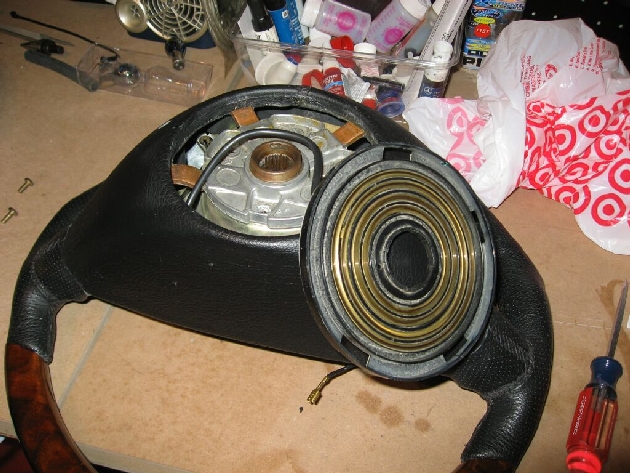 A Clock Spring  is located behind your steering wheel, between where your dashboard and steering wheel connects. It connects the switches and airbag in the steering wheel to the radio, horn and cruise control.
The defect of the clock spring could cause the following incidents,
1. Noises when turning the steering wheel.
2.Unintentional triggering of the car horn.
3.Malfunction of car audio remote button on the steering wheels.
4.Self-deployment of the air bag.
5.Unable to start car due to short circuit of the electronic components.
Check your car whether is affect
Go copy down your chasis number located here.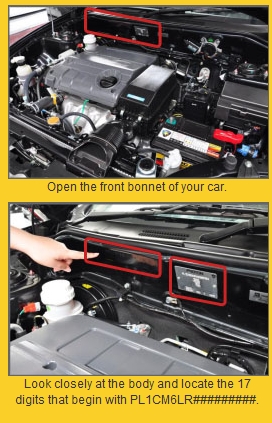 Go to the url here – http://www.protonaftersales.com/MyProton.aspx to check whether your car is affected.
Proton announced this recall as part of their Global Quality Assurance program, this recall will affect 15,911 units of vehicle which is 2% of 660,000 sold within 2004-2008. Aligning with this recall proton has setup a website to explain and allow customer to check whether their car is affected. – http://www.protonaftersales.com/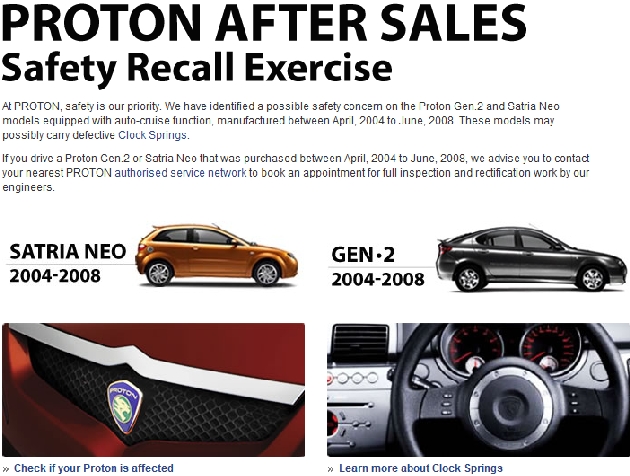 Image extracted from http://www.protonaftersales.com/
Whether or not your car is still under warranty,  Proton will replace the clock spring at no cost as long as it is a defect. Proton will be sending letters to affected customers. For more details of this issue, you may contact Proton via phone at 1-300-880-888 or contact your dealer directly.