[singlepic id=372 w=630 h=473 float=center]
This Lotus Evora is coming to Malaysia next month. The Lotus Evora is coming back to his father company land, for those who not yet know, Proton which is a Malaysia Car Maker owns Lotus. The Lotus Evora will be officially launched next month according to Proton Holdings Berhad managing director Datuk Syed Zainal Abidin Syed Mohamed Tahir.
Many of you will be wondering how much will this car priced here. It is selling for £48,000 in UK which with direct coverted to RM252,000 with recent exchange rate. However it was said the price has not been finalized because the price has not include Malaysia's High Import Tax.
The Lotus Evora was officially launch in England in July 2008, since then it has won 8 major awards till' date.The 2+2 seat, mid engine, 3.5 litre V6, Rear wheel drive Lotus Evora produces 280hp from a Toyota Sourced engine which is from a Camry. With 0-100km below 6 seconds, the Lotus Evora can reach a top speed of 261kph.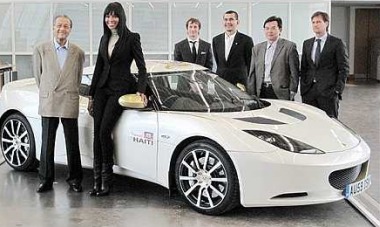 Malaysia former respected Prime Minister, Dr Mahatir was present during Lotus make these statements in UK. Dr Mahatir also test drove the Lotus Evora in the Lotus Test Track. He described it as a nice car despite having 6 gears.
Even the way I use the gears, I was able to speed quite a bit on the straight and could handle the obstacles very well, he said.
To own a Lotus Evora in Malaysia, besides being able to afford it, there's a waiting period of estimated 6 months. More to come in a few days time about details of Lotus Evora. For now, enjoy the gallery below.
[Source : TheStar] [nggallery id=8]