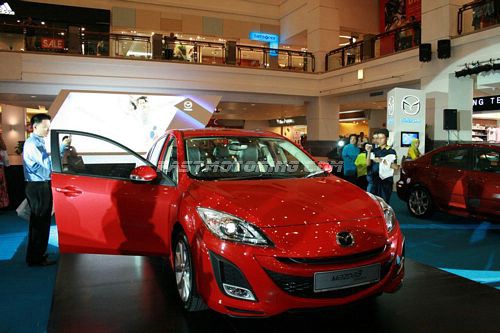 [Mazda 3 Sport 2.0]
The all-new generation of Mazda 3 are known as Mazda 3 Sport in Malaysia. The Mazda 3 Sport is a premium compact passenger car, exciting to drive and look at, and equipped with unexpected luxury features, all at a reasonable price. Now its looks a bit sharper and happier then before.  Yes, is happier than before with the smiley face in-front that heavily criticise around the world. However, Bermaz which is the Malaysia distributor for Mazda have done a little job to paint up the nose to make it a little more serious.
By suppose, Mazda 3 are offers in Sedan and Hatch as well as 2.0-litre and 2.5-litre models. At down under, Mazda also offers Mazda 3 MPS which uses 2.3-litre engine that outputting 191kw. Unfortunately, the exhilaration of Zoom-zoom handling and performance, only available in Sedan in Malaysia. It is also limited to 1.6 and 2.0 variant and both only come with Automatic transmission like its illustrious predecessor in Malaysia, the car is build with the same chassis as the previous model too. With the performance-oriented chassis tuning, the Mazda 3 Sport is blessed with minimal body roll and a healthy amount of grip on twisty blacktop, and its steering is quick and communicative. However, drivers who prefer more comfortable ride like on a Toyota Corolla Altis might think that this car is too firm. Both variant are featured with the same engine as its predecessor but only the automatic gearbox on the 2.0 was replaced by a five-speed automatic and pedal shifter instead of four-speed automatic. Anyway, I wouldn't want to cover much on the engine specs as both model having the exact same engine as its predecessor. I will keep it to our test drive team to give their say on this part.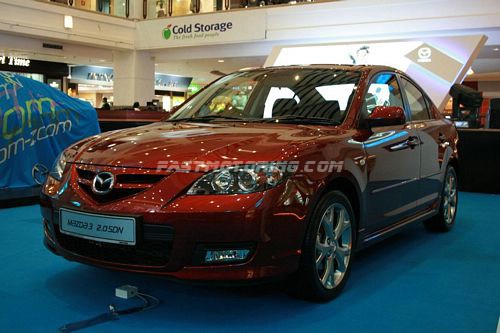 [Mazda 3 Sport Predecessor Model: Mazda 3]
While most mid-range cars have little in the manner of interior aesthetics, the cabin in the Mazda 3 Sport shows impressive attention to detail even if some of its controls aren't as simple to use as those found in Toyota Corolla Altis, Honda Civic or even Mitsubishi Lancer. The materials used are some of the nicest found in its class.[more] People are bound to think you paid more than you actually did. Even taller folks will be comfortable up front, and the driver will appreciate the standard tilt-and-telescoping steering wheel.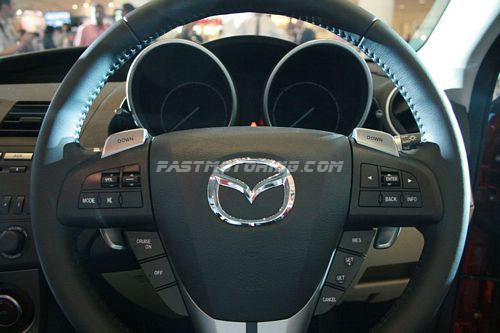 [Multi-functional Steering Wheel with Paddle Shifter – 2.0 Model]

[The Dual layout Dashboard for Mazda 3 Sport]
In detail for the 2.0, it come standard with Dual zone digital climate control for the Air-condition, Auto-cruise, Paddle shifter while the 1.6 only has it all simple knob switches for the Air-condition and nothing else. For the audio entertainment wise, 2.0 have 6 CD changer and 6 speakers while the 1.6 only having single disk and 4 speakers setup in the car. Of course, both supports MP3 and WMA playback.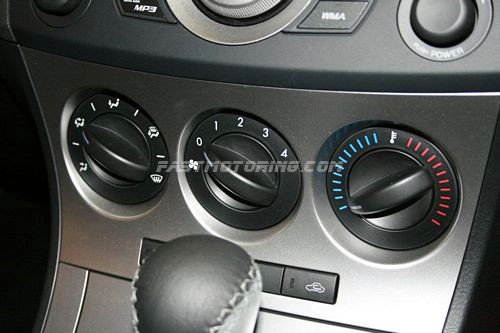 [Air-cond Switches for 1.6 Model]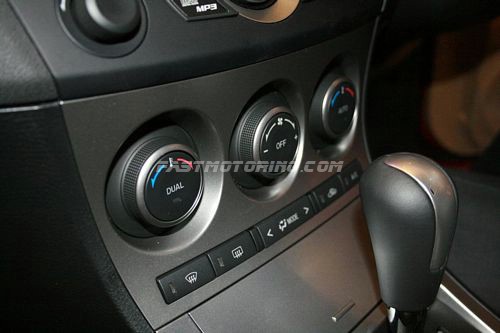 [Dual-zone Climate Control for 2.0 Model]
Back in many years ago, all Japanese cars especially the JDM models come standard with Bi-Xenon HID headlamp. Finally, Mazda offers its exported model with Bi-Xenon HID headlamp but limited to 2.0 variant over here. Of course, the HID headlamp comes with auto levelling function that won't irritate the other road users.  For the 1.6, it is fitted with standard halogen lamp. Another historical technology from the Japan is also adapted to this new Mazda 3 Sport, which is Auto wiper with Rain Sensor but it is also limited to 2.0 variant as well.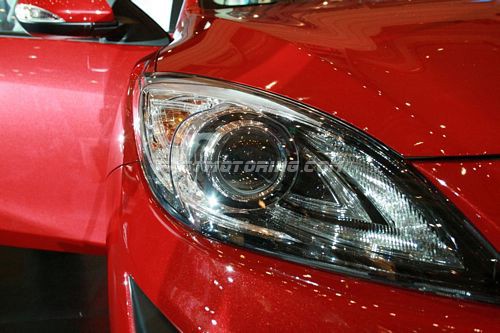 [Bi-Xenon Headlamp with Auto-levelling – 2.0 Model]
The side mirror for the 1.6 variant are pretty standard as it only come with electric adjustable only. For the 2.0 variant, it come power folding and also signal lamp that attach to it which something similar to Honda Civic 2.0S.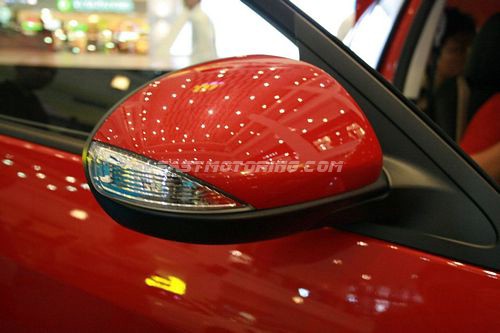 [Power fold with Signal lamp side mirror – 2.0 Model]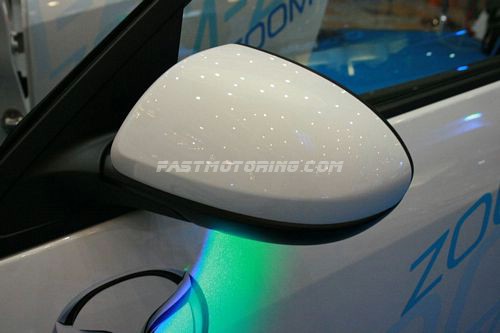 [Standard Side Mirror for 1.6 Model]
[Mazda 3 Sport 1.6] – Ignore the wheels that fitted on this 1.6 (for display purposes only)
Body styling wise, the 1.6 are semi-styled as it fitted with side-skirt and read spoiler. But for the 2.0 is fully bodykitted as it comes with a different front bumper, side-skirt and rear spoiler.  In order to help Mazda to keep their car models in-trend and stylish comparing with the competitor models. Mazda Malaysia has fitted the 2.0 variant with big wheels but smaller width tyres. The Mazda 3 Sport 2.0 is fitted with 17 alloy wheels with the tyres of 205 45 R17. Well, there's reason behind it. Partially, the tyres are cheaper when the manufacturer direct stocks it from their tyres supplier. Secondly, it helps the car to feel  a little more powerful on 17 alloy wheels while maintaining the fuel consumption and still maintaining the 17″ size rim. I would say the main intention is for styling purposes as the Mazda 3 Sport are fitted with 16 alloy wheels in other country.  For the 1.6 variant, it fitted with 15 alloy wheels with the tyres of 195 65 R15.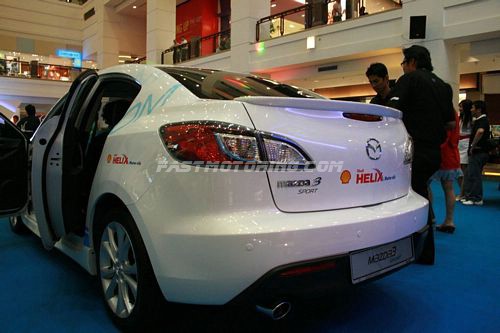 Lastly on the safety wise (this is quite important) – if any unfortunate accident that potentially trigger the airbag, the Mazda 3 Sport 2.0 that come with 6 Air bags which is front, side and curtain should keep the passengers avoid from bad injuries.While the 1.6 only come with 2 Airbag on the front.
In addition since Malaysia will be introducing the RON95 unleaded fuel, both the 1.6 and 2.0 variant of Mazda 3 Sport are designed for regular unleaded which it can run well even with minimum RON91 unleaded fuel. So, no problem even you try to fill-up and running with RON92 from the petrol kiosk today.
Conclusion, I would say this car finishing is much better than all its competitors model for sure and styling wise is also much outstanding apart from its happy smiley face. The drawback are mainly the car is still having the same old engine and chassis design. Practically in Malaysia, it is a known fact that Mazda owner are always facing bad average resell value. It's value would not go much better even on its predecessor model unless for some reason Malaysian start to value a car by it's quality and not brand name. It is an individual decision, to buy the car based on their needs and wants. If you want to maintain good resell value yet looks good – go for a honda .If you want to have a comfortable drive go for a toyota. As for those who likes to zoom-zoom, Mazda 3 Sport is the definate choice.
[nggallery id=66]