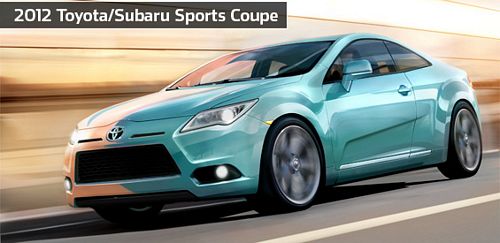 We've heard all this before about Toyota and Subaru joint effort to build an FR Sports Coupe. But now, we now have stronger proof than ever that Toyota is getting back into the affordable sports-coupe game. This front-engine/rear-drive 2-door will reincarnate the spirit of the 1983-1987 Corolla AE86, a car that's still popular today, especially among drift enthusiasts. According to Best Car magazine, Toyota's code name for this future sports car is 086A. That it's so similar to AE86 is no coincidence.
Toyota is partnering with Subaru to bring this project to reality. In fact, most of the engineering seems to be coming from the company known for its all-wheel-drive rally cars. Powering the future coupe will be Subaru's 2.0-liter flat-4 equipped with a new direct-injection system, tuned to produce an impressive 200 bhp and 145 lb.-ft. of torque. We predict the car will weigh about 1225kg, so expect fairly quick acceleration times, probably around 6.0 seconds to 100km/h. The suspension will consist of MacPherson struts up front and a multilink setup at the rear, with the chassis based on that of the Subaru Impreza and Legacy.
Toyota will mainly be in charge of the car's styling. Although both Toyota and Subaru versions will be offered, the two models won't look much different, apart from badging wise. The car is scheduled to appear sometime in 2011 or 2012. If this future car truly is a reincarnation of the AE86, Toyota and Subaru will have a big hit on their hands.