Hyundai-Sime Darby Motors (HSDM) has begun accepting order for its new IONIQ Hybrid, which will be launched in Malaysia by the end of the year. HSDM Managing Director Mr Lau Yit Mun said all interested customers can now visit any authorised Hyundai sales dealers to place their bookings and be among the first for early delivery of the vehicles.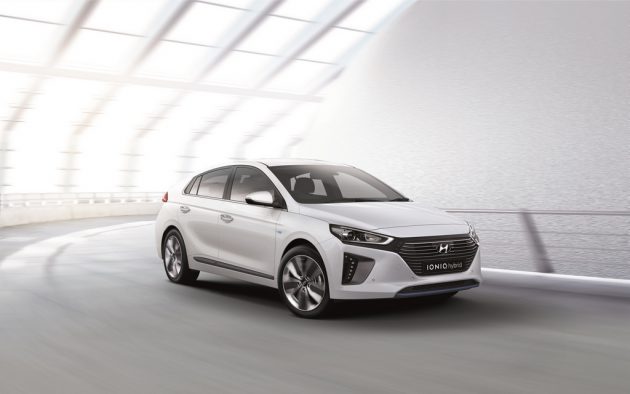 An eco-friendly vehicle hailing from the Blue Drive Technology, the all new Hyundai IONIQ Hybrid exhibits not only features which exude exceptional efficiency and impressive performance, but it is also set to impress with its thoughtful amenities and ingenious design comparable to other hybrid models that will result in a more rewarding drive. "The Hyundai IONIQ though a hybrid, promises a pleasurable driving experience. It will not only appeal to eco and fuel-efficiency oriented buyers but also car buyers who are looking for a car with advanced technologies, great performance and a stylish design", said Mr Lau.
The new Hyundai IONIQ Hybrid is powered by a 1.6 GDI four-cylinder Kappa engine coupled with a 32kW (44 PS) electric motor, which is fed by a Lithium-ion polymer battery to give a combined output of 104kW (141 PS) and 265Nm (27 kg.m) of torque. Apart from that, it is also equipped with a six-speed dual-clutch transmission (6DCT) that provides responsive performance and a slick gearshift, which results in an entertaining drive and good fuel economy.
The Lithium-Ion polymer battery pack is used for the IONIQ Hybrid, which is 23-25% more efficient than a conventional nickel-metal-hydride battery. This provides lower memory sensitivity, excellent charge / discharge efficiency and an outstanding maximum output. This same advanced technology battery is also used in premium American electric vehicles.
A hybrid model like no any other, the new Hyundai IONIQ's attractive shape is specially designed to manage airflow with several active and passive aerodynamic features. Its active aero grille, wheel air curtains, rear spoiler and smooth underbody cover help deliver a 0.24 coefficient of drag, making the hybrid model one of the most aerodynamic vehicles on sale.
Apart from that, the Hyundai IONIQ Hybrid's interior design also feature eco-friendly materials and a relatively clutter-free approach as well as a host of safety features. Among these include a touchscreen Audio Visual Navigator, a dynamic reverse camera, the Vehicle Stability Management and seven air bags that include a knee airbag for the driver; all being installed to enhance and provide maximum safety for its passengers. The IONIQ is also built with 53.5% advanced-high-strength steel and lightweight aluminium that make the IONIQ strong, stable and agile. With a wheelbase of 2,700mm, Ioniq is similar to mid-size sedans in the market such as the Elantra.
HSDM is confident that the launch of the new IONIQ Hybrid in Malaysia will benefit many new customers with its low fuel consumption, low maintenance and advanced features. The Hyundai IONIQ Hybrid will also be displayed at the Malaysia Autoshow 2016 which will be held at the Mines International Exhibition and Convention Centre (MIECC) from November 10 -13, 2016. Interested parties can also place their order at Hyundai's booth. Look out for the price and full specs of the new Hyundai IONIQ Hybrid during the launch by the end of the year.