Honda Automobile (Thailand) Co., Ltd. today launched the all-new 10th generation Honda Civic, which was created and developed to transcend all limits to be the most cutting-edge Civic that is perfect in every dimension. Its elevated design in a premium and sporty new style is combined with automotive innovations, including a new VTEC TURBO engine which provides a powerful performance and excellent fuel efficiency, as well as advanced technologies that enhance the sense of comfort and superior safety.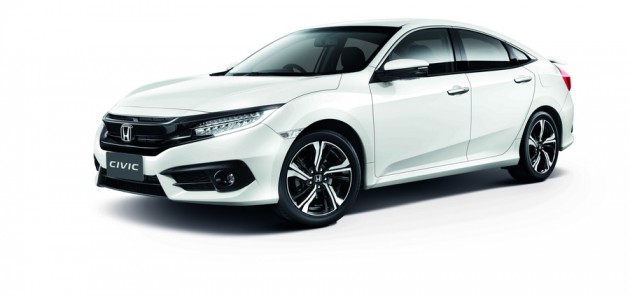 Mr. Noriaki Abe, Chief Operating Officer, Regional Operations (Asia & Oceania) of Honda Motor Co., Ltd. and President & CEO of Asian Honda Motor Co., Ltd., stated, "Honda values the importance of Thailand in term of its highly potential domestic market and its role as the largest automobile production base for Honda in Asia & Oceania region. Therefore, Thailand is the first country outside North America to launch the all-new Civic. Moreover, it is the first model to be produced and delivered from Honda's all-new automobile plant in Prachinburi, which features advanced production technologies used at Honda's Yorii plant in Japan. The Prachinburi plant reaffirms Honda's commitment to Thailand as our strategic production base and an export hub for the world."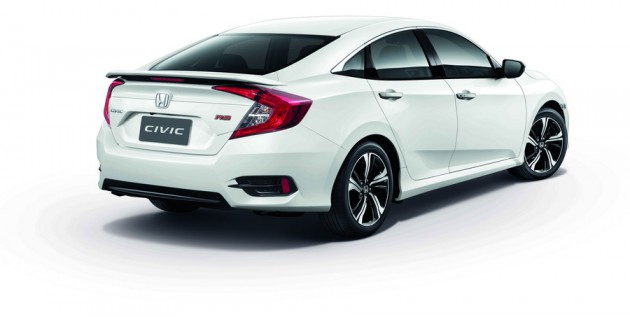 Mr. Pitak Pruittisarikorn, Chief Operating Officer of Honda Automobile (Thailand) Co., Ltd., revealed, "Honda Civic sales in Thailand began with the 3rd generation in 1984 and being warm welcomed with satisfaction by Thai customers as always, as evident from its cumulative sales of nearly 460,000 units to date. In Thailand, Civic and Honda in Thailand grew up together and it also represented Honda image: the Civic and its sports DNA always be the top-of-mind impression of Honda. The arrival of the all-new 10th generation Honda Civic is another important step of advancements that take Civic further ahead. In just six months after its world premiere in North America, the all-new Honda Civic has already won 14 awards and recognitions from 10 leading institutions, reflecting its world-class automobile that is truly much awaited."
The all-new Honda Civic has been created with the sport and advanced body design, using the "Wide and Low" body styling concept to enhance a sense of sport and self-assured driving including more spacious cabin. The exterior comes with an ideal level of luxury and bold appearance which includes sleek sporty design with sharp character lines and a chrome front grille in wing shape which is extended to sporty headlights with LED daytime running lights and distinctive C-shaped LED tail lights.
The interior features high quality materials and the designed lines offering a sport and premium sense including a spacious cabin comparable to D-segment cars. A full range of advanced technology provides convenience and ultimate comfort in all driving and easily control of all features.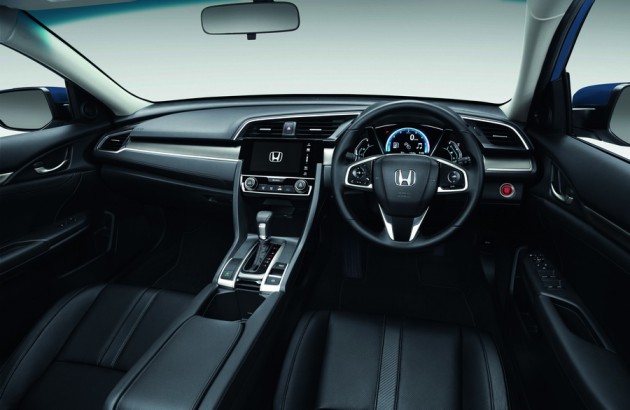 For example, a 7-Inch Display Audio Touchscreen provides Advance Touch controls of entertainment features, wireless telephone connectivity via Bluetooth, and USB port that supports Apple CarPlay (compatible with some smartphones). A Multi-Information Display allows many utility functions which could be switched displayed information and searched by alphabet using control buttons on the steering wheel. To get the engine ready and the cabin temperature comfortable before a journey starts, Engine Remote Start can turn on the engine and the air-conditioner remotely while the doors remain locked and the car is immobilized until the driver enters inside the car with the smart key and start the engine.
The all-new Honda Civic is powered by a new 1.5-liter DOHC VTEC TURBO engine and a new CVT, both developed under Earth Dreams Technology, that provides 173 horsepower at 5,500 rpm and maximum torque of 220 Newton-meters at 1,700 – 5,500 rpm – a performance comparable to a 2.4-liter engine but with better fuel efficiency equivalent to a 1.8-liter engine. A 1.8-liter SOHC i-VTEC engine is also available together with a CVT developed under Earth Dreams Technology to offer a very responsive driving performance and better fuel saving, that provides 141 horsepower at 6,500 rpm and maximum torque of 174 Newton-meters at 4,300 rpm, this engine is also compatible with E85 fuel.
The class-leading safety systems in the all-new Honda Civic includes Honda LaneWatch, it provides a better view of the vehicle's left-side blind spot, Electric Parking Brake (EPB), Auto Brake Hold, and Walk Away Auto Lock automatically locks the car when the smart key is kept away.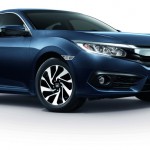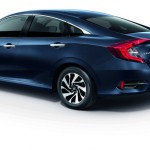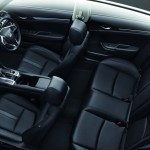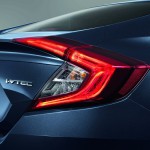 Mr. Sompop Patipanthada, Marketing General Manager of Honda Automobile (Thailand) Co., Ltd., said, "Ever since the beginning of Civic, the challenging spirit of Honda has always been carried over through its development from generation to generation. Every generation of Civic improved and consistently set a new standard for compact cars in their periods. They are always at the leading edge of their competition, so obviously that you could say Civic is "The Only One Who Can Go Beyond Civic". Combining its heritage as a world-class automobile and the cutting-edge development to advance the all-new Honda Civic in all dimensions, our marketing communication this time doesn't need a tagline to describe it. The best explanation is already given by the highly-accepted name and the spellbinding presence of the all-new Honda Civic. Honda expects sales of the all-new Honda Civic to reach 25,000 units within one year."
The all-new 10th generation Honda Civic is available in four model variants: TURBO RS at 1,199,000 baht, TURBO at 1,099,000 baht, 1.8 EL at 959,000 baht, and 1.8 E at 869,000 baht. There are five choices of exterior colors, namely White Orchid Pearl, Crystal Black Pearl, Modern Steel Metallic, and two new colors namely Lunar Silver Metallic and Cosmic Blue Metallic.