It is such a big surprise that the all-new 9th generation Honda Civic has sold over 135,000 units from January to May 2012 and beating all the other competitors to become the No. 1 choice in its segment in the USA. In reality, this particular model set to launch on next week and replacing the well-liked 8th generation Honda Civic in Malaysia.
Today, Honda Malaysia announced that the All-New Civic will soon be making a smart appearance with strings of improvements. Among which are increased fuel economy on all variants, further addition of interactive technologies for personalization and convenience, enhancements to performance, drive and interior styling.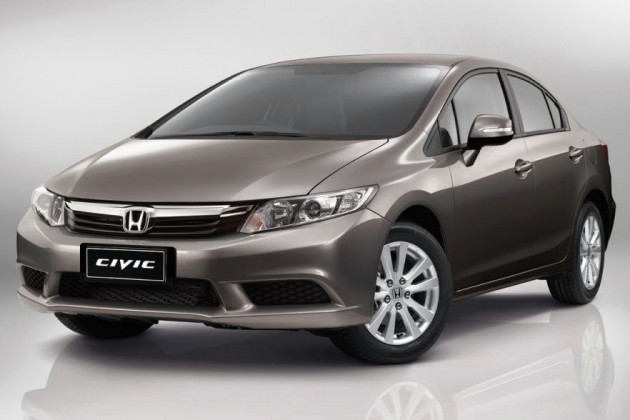 "Civic has always been the number one choice in its segment. With its futuristic advanced technology, the All-New Civic continues to fulfil customers' demand for a ride with smart technology. Introduced as a smart sedan with energetic drive, futuristic technology, improved fuel efficiency and new level of comfort, the All-New Civic is designed to connect human and machine more closely," said Mr. Yoichiro Ueno, Managing Director and Chief Executive Officer of Honda Malaysia.
For Malaysian market, the All-New Civic is readily available in three variants – 1.8L i-VTEC, 2.0L i-VTEC and 2.0L Navi. The 1.8L's engine remains the same as the existing model but has been enhanced for better fuel consumption. The 2.0L variant now adopts a SOHC i-VTEC engine as compared to the previous DOHC i-VTEC. With this, it is able to achieve better fuel economy yet maintains the much desired driving performance.

The key aspect of smart technology in the All-New Civic is spelled out in its advanced styling. On the outside, the streamlined silhouette evokes a cleaner but yet energetic impression. The unique mono-form framework clearly embodies grace and style. Complete with redesigned exterior, the car presents a wider spectrum on both the front and the rear. Featuring a futuristic cockpit design, the esteemed two-tier dashboard has been greatly enhanced to match the stylish interior. The overall improvement not only makes driving fun, it gives driver better control, comfortable space and intelligent assistance.
With a state-of-the-art multiplex meter, the cockpit resembles a high-tech console that links the main display and a series of other control functions. Through advanced technology, driver is able to access various controls such as audio setting and cruise control from the steering wheel. With a five-inch colour intelligent multi information display (i-MID), informative readings such as fuel consumption, audio details and other supporting information are clearly visible and easy on the eyes. The smart interface concept also promotes safe driving while prompting interactivity between driver and the car.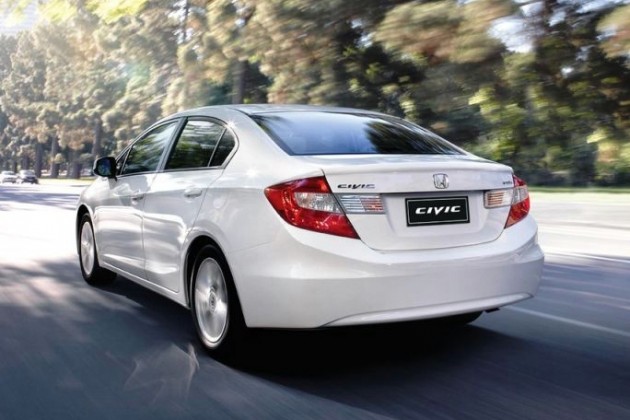 Taking smart technology further, the All-New Civic is Honda's first non-hybrid vehicle fitted with ECO Assist functions, which include the ECON Mode button. When activated, the ECON Mode button combines and performs a series of ECO Assist functions including optimizing control of the Drive By Wire (DBW), Automatic Transmission (AT) Shift Map, air conditioner, engine and related powertrain components. This intelligent combination is able to improve the vehicle fuel efficiency markedly.
Furthermore, there is a driver feedback function – the ambient meter display with changing background colours provides real-time guidance to drivers on best ways to achieve higher fuel efficiency.
Another noteworthy smart feature is the built-in NAVI operation system. Through the touch screen display, driver is able to navigate from one destination to the next easily while driving. In addition, the new ride also comes with reverse camera that makes reversing a breeze. Smart and advance, the Civic 2.0 variant offers a series of premium features such as Driver Power Seat, Head Lamp auto-off Timer, Smart Entry and Push Start Button, Cruise Control and side SRS Airbag.
In addition, the All-New Civic is greatly enhanced with sound proof package to minimise noise for a more comfortable ride that makes driving fun.
The All-New Civic has obtained a 5-star EURO NCAP safety rating for occupants and pedestrian. The refined Honda's Advanced Compatibility Engineering (ACE) body structure provides improved crash compatibility between vehicles of different size and ride height. It is embedded with front and side Airbags with Occupant Position Detection System (OPDS); anti-lock brakes with Electronic Brake Distribution (EBD) and Vehicle Stability Assist (VSA). Taking security to a higher level, the Civic has combined the VSA system with an advanced Motion Adaptive EPS (Electric Power Steering) system that helps drivers to control during oversteer and understeer conditions. Furthermore, The All-New Civic complies with the UN R94 Regulation – Protection of the Occupants in the Event of a Frontal Collision as all variants features come standard with a sun visor label, rear centre head rest, 3 point ELR safety belt and rear ISO Fix.
For individuals that preferred for the hybrid power plant, the All-New Civic Hybrid will also be launch after this, so be patient just wait a little longer. According to Honda Malaysia, the All-New Civic Hybrid is set to be the Advanced Smart Hybrid Sedan with futuristic distinctive efficiency. It will be a 1.5-litre engine instead of 1.3-litre. How futuristic it can be? We are looking forward for this launch as well!!
For more information about the new 9th generation Honda Civic and more photos, check out this link from our affiliate site.