The world most favourite pickup truck – Toyota Hilux is set to take its 'unbreakable' DNA to new heights with the world premiere of an even tougher next-generation model.
The global unveiling, staged simultaneously in Australia and Thailand, has taken the wraps off the 8th generation of a nameplate with a famed 47-year pedigree.
The new Toyota Hilux will hit the Australia's Toyota showrooms from early October 2015.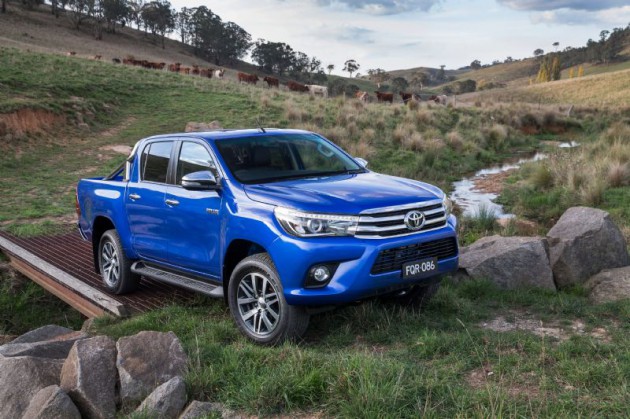 New Hilux expands the model's legendary prowess with an even stronger frame, four powerplants (including two new high-torque turbo-diesel engines), increased towing capacity up to 3.5 tonnes and payloads of up to 1,240kg.
Toyota's Australian engineers took global responsibility for developing the rugged suspension package for the local Hilux with testing at the Anglesea proving ground and over sealed roads and off-road trails in Victoria, NSW and South Australia.
The set-up with improved off-road performance, better suppression of vibrations and improved roll stiffness – will also be used to provide superior ride and handling in the harsh conditions of South Africa, Russia and South America.
New Hilux's two newly developed GD-series four-cylinder common-rail turbo-diesel engines are notable for their low-end punch and develop substantially more torque than the current model's 3.0-litre unit.
A 2.8-litre version offers up to 450Nm of torque, a gain of 25 per cent, while its 2.4-litre sibling generates up to 400Nm. In each case fuel use has been reduced by around 10 per cent.
Upgrades to Hilux's 2.7-litre four-cylinder petrol engine have produced greater power, torque and fuel efficiency due to lower weight, enhanced combustion efficiency and reduced friction. The 4.0-litre petrol V6 engine continues.
Improved performance and economy are supported by new six-speed manual and automatic transmissions, including an 'intelligent' manual transmission that helps eliminate shift shock by matching engine revs to the transmission speed.
Hilux will arrive in Australia with greater customer choice – 31 variants (currently 23) with 4×2 and 4×4, three cabin styles (single, extra and double) and three equipment grades (WorkMate, SR and SR5).
The expansion in Hilux variants is focused on adding more double cabs, more 4×4 variants, more diesel options and reintroducing 4×4 WorkMate.
For the first time, the Hilux range includes Hi-Rider variants – a 2WD with the ride height and heavy-duty suspension of a 4WD model.
The double cab Hilux revealed in Australia features 18-inch wheels on a body that is sleeker and more muscular, at 70mm longer and 20mm wider, with a slightly lower roofline. The range also includes 16 and 17-inch wheels.
Larger exterior dimensions and clever packaging have liberated more interior space front and rear and enabled designers to offer a more natural seating position.
Hilux also benefits from a larger fuel tank (80 litres), all-terrain tyres on many variants and available LED headlights and daytime running lamps.
Body rigidity has been improved with additional spot welds reinforcing Hilux's toughness and contributing to better steering response. Greater use of high-tensile steel helps reduce weight while ensuring body strength.
Toyota expects the entire next-generation Hilux range to attract the maximum five-star safety rating with stability and traction control, anti-skid brakes, reversing camera, seven airbags, hill-start assist and emergency stop signal all standard across the range.