Do you know Lamborghini ever launch a SUV before? The answer is yes!
The SUV model known as Lamborghini LM002 and it is currently on display in the Lamborghini Hong Kong Pop Up museum. The LM002 is the very first SUV as well as the first four wheel drive model in the Lamborghini history.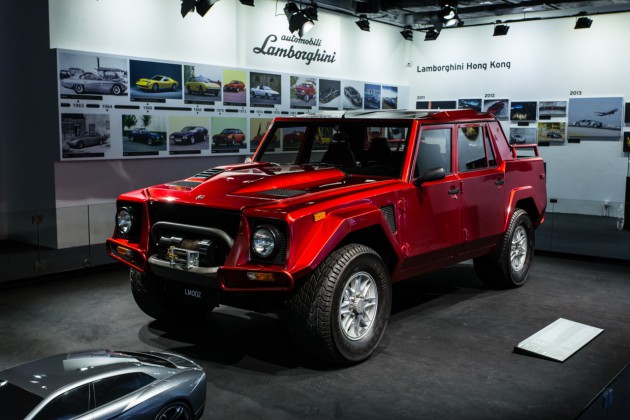 About LM002
At the end of the 1970's, the American company MTI commissioned Lamborghini to design an off-road – the project, failed, it was proposed again in 1981 and after several prototypes had been built, Lamborghini presented the LM 002 series model in 1986. It was an SUV as well as  the first four-wheel drive model built by Lamborghini. This powerful off-road with the Countach engine was liked by kings, actors and racers alike – the first LM 002 was delivered to the King of Morocco. In 1987 an LM 002 was built and used also for the pharaohs' rally and for the Paris-Dakar one year later.
About Lamborghini HK Pop-Up Museum
The first-ever Lamborghini Popup Museum in Hong Kong located at Soundwill Plaza II – Midtown is opened in May till September 2014.
It has attracted over 20,000 visitors since its open. The Museum has featured Lamborghini treasures from the past to the present days, including the historical 400 GT 2+2, Countach LP400, Reventón Roadster and the remarkable anniversary editions; Diablo SE 30th Anniversary Edition, the Murciélago 40th Anniversary, the Aventador LP 720-4 50° Anniversario Roadster and Gallardo LP 550-2 HK 20th Anniversary Edition. In August, we have a very special model to be displayed. The Lamborghini LM002 – the first four wheel drive and the only SUV model in the Lamborghini history. 
Lamborghini HK Pop-Up Museum Opening Hours
| | |
| --- | --- |
| Date: | From now until September 2014 |
| Time: | 10am – 7pm, Monday – Sunday (Open on Public Holidays) |
| Venue: | G/F., Soundwill Plaza II Midtown, 1-29 Tang Lung Street, Causeway Bay |
| Admission: | Free |