With immediate effect, Volkswagen Group Malaysia has just announced that it is now centrally-managing a streamlined process for Extended Warranty Programme (EWP) claims with immediate effect. This customer-oriented approach is done in cooperation with its insurance partner and authorized dealer network to ensure a faster processing time and seamless customer experience on all warranty claims.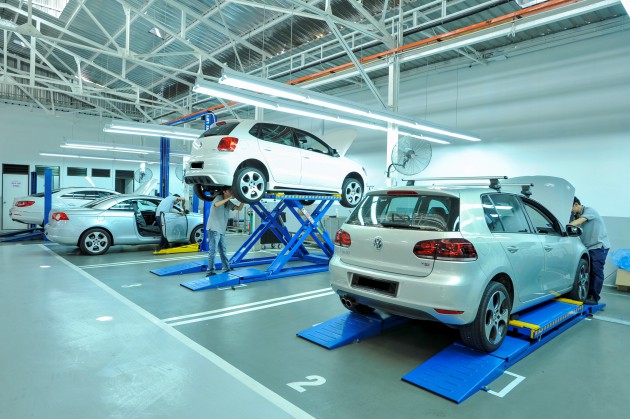 According to recently appointed Volkswagen Group Malaysia Managing Director Christoph Aringer, "We at Volkswagen are committed to continually improve our customer service standards to be one of the best in the industry. This optimization of our Extended Warranty Programme process is the next step that we are embarking on in order to ensure the vehicle maintenance process at our authorized service centre network is tailored according to our customers' needs."
Furthermore, Volkswagen Group Malaysia and their insurance partner also announced today a 1,500 km allowance extension of the corridor of goodwill. The manufacturer recommended service interval mileage at every 15,000 km or 1 year whichever comes first. With the goodwill extension, customers will now enjoy a service interval mileage allowance of up to 1,500 km past their service intervals.
"These adjustments to Volkswagen Group Malaysia's warranty and servicing programme policies are part of our efforts to accelerate customer satisfaction. At the end of the day, we want to ensure that our discerning customers have more efficiency, flexibility and convenience when servicing their vehicles," continues Aringer.
These latest moves underline Volkswagen Group Malaysia and their dealer network's renewed commitment to customer satisfaction, which has seen the recent enhancement of efforts such as the dedicated Volkswagen Hotline to handle all enquiries on Volkswagen's Extended Warranty Programme (EWP).
In terms of operation hours, customers can now service their vehicles 7 days a week, with the extension of operating hours for maintenance service on Sundays for 20 Volkswagen service centres in Peninsular Malaysia. Additionally, opening hours at selected service centres in Klang Valley will be extended from 8am to 8pm and the technical teams will operate in double shifts on weekdays to ensure minimal waiting time for Volkswagen owners and enhance the customer experience.