Recently, Volkswagen Group Malaysia shared their plans in collaboration with their authorised dealer network and service centres to improve after-sales and customer satisfaction levels in line with the leading European automotive brand's development plan in the country.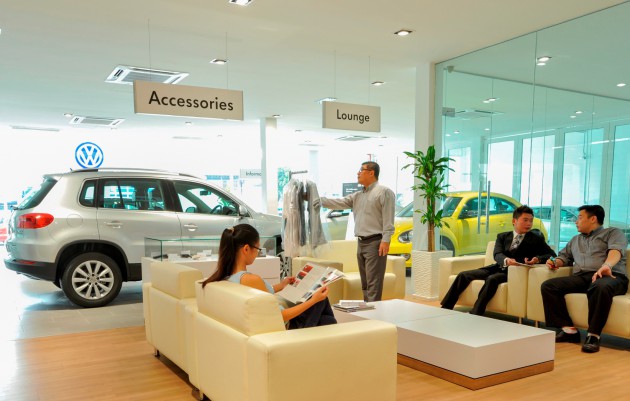 As one of the first steps, Volkswagen Group Malaysia is pleased to inform that 20 authorised Volkswagen service centres in Peninsular Malaysia will open on Sundays from 9.00am to 5.00pm for maintenance service starting from 16 March 2014, providing Volkswagen owners with greater flexibility and convenience in maintaining their vehicles.
Volkswagen owners only need to make an appointment a few working days before their desired service on Sundays in order to secure an appointment with their preferred service centre. This operating hour extension for participating dealers service centres in the country is in line with Volkswagen's commitment to further increase customer satisfaction.
Managing Director, Volkswagen Group Malaysia, Christoph Aringer mentions, "Customer satisfaction is an integral component of Volkswagen Group Malaysia, as it contributes directly to the growth and development of our brand locally. Based on the feedback we have garnered from our customers, we are taking steps to increase the levels of service quality and customer satisfaction in order to meet the needs and expectations of discerning Malaysian drivers."
Volkswagen Group Malaysia also announced that they are in the midst of intensifying the professional training programmes for sales as well as after-sales staff throughout all dealers and service centre network. This is a joint approach with Volkswagen Group Malaysia's dealer partners, encompassing various sales and service areas as part of Volkswagen growth strategy in Malaysia.
"Whether it's ensuring that our sales consultants have access to the latest product knowledge and after-sales support in order to engage and address our customers' needs at the level expected of a leading global brand or equipping our after-sales  teams with the skills in order to consistently and accurately diagnose and address technical issues, we at Volkswagen Group Malaysia are committed to continually raising our standards to set the industry benchmark right here in Malaysia for Malaysians," added Mr. Christoph Aringer.
The authorised Volkswagen service centres which will be open on Sundays as part of the after-sales campaign are as follows:-
| | | |
| --- | --- | --- |
| No | Service Center | Contact No. |
| 1 | Volkswagen Georgetown | 04 2826 333 |
| 2 | Volkswagen Glenmarie | 03 5567 0691 |
| 3 | Volkswagen Ipoh | 05 5063 133 |
| 4 | Volkswagen Jalan Ipoh | 03 6259 6669 |
| 5 | Volkswagen Juru | 04 5022 999 |
| 6 | Volkswagen PJ | 03 7960 0801 |
| 7 | Volkswagen Sungai Besi | 03 9236 2929 |
| 8 | Volkswagen Skudai | 07 237 9301 |
| 9 | Volkswagen TTDI | 03 7725 3303 |
| 10 | CNB Auto Sdn Bhd (Klang) | 03 3318 8526 |
| 11 | CNB Auto Sdn Bhd (Old Klang Road) | 03 7983 3226 |
| 12 | CNB Auto Sdn Bhd (Tebrau) | 07 3617 860 |
| 13 | F.A Wagen Sdn Bhd (Alor Setar) | 04 7301 846 |
| 14 | F.A Wagen Sdn Bhd (Sg. Petani) | 04 4411 006 |
| 15 | Hicom Auto Sdn Bhd (Bayan Baru) | 04 6408 808 |
| 16 | Hicom Auto Sdn Bhd (Cheras) | 03 9074 3702 |
| 17 | Hicom Auto Sdn Bhd (Seremban) | 06 6321 551 |
| 18 | MHV Autohaus Sdn Bhd | 03 4026 9200 |
| 19 | N3 Auto Sdn Bhd | 06 2822 422 |
| 20 | Swire Motor Sdn Bhd (Puchong) | 03 5882 7288 |