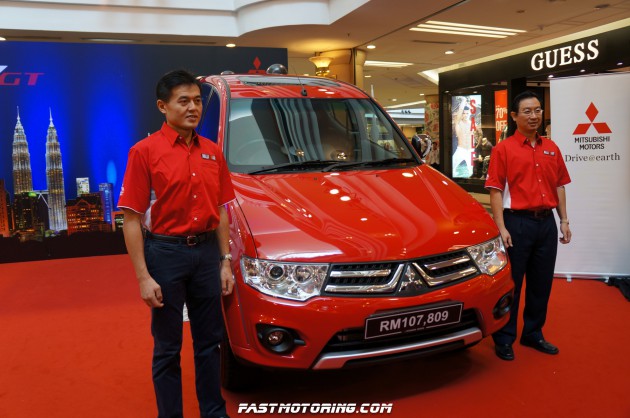 Mitsubishi Motors Malaysia office launched the new Triton earlier yesterday. Apart from the Triton VGT GS, the new facelift offers three other upgrades variants including :- Triton 2.5AT, Triton 2.5MT and Triton 2.5 MT STD with a new designed front bumper and grille. The stylish looks of the Triton VGT GS has been enhanced with sportier elements including newly designed front bumper and grille as well as projector headlamps. On the interior, the VGT GS comes with a 6.1-inch touch screen audio display with rear view display. The Triton VGT GS is also packed with a 17″ alloy wheels while the rest of the variants only comes with 16″ wheels.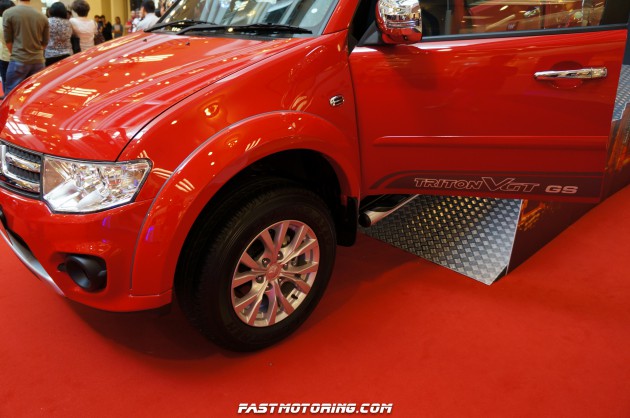 Only on the Triton VGT GS, Mitsubishi includes a powered sunroof, powered sliding rear window, leather seats, automatic climate control and security window tint by Llumar. 
| | | |
| --- | --- | --- |
| [singlepic id=15437 w=180 h= float=] | [singlepic id=15438 w=180 h= float=] | [singlepic id=15445 w=180 h= float=] |
Under the hood, there're no changes for the Triton AT/MT. It is equipped with a 2.5litre turbodiesel engine with 136PS and 314Nm of torque. Paired with either a 4-speed automatic transmission or 5-speed manual.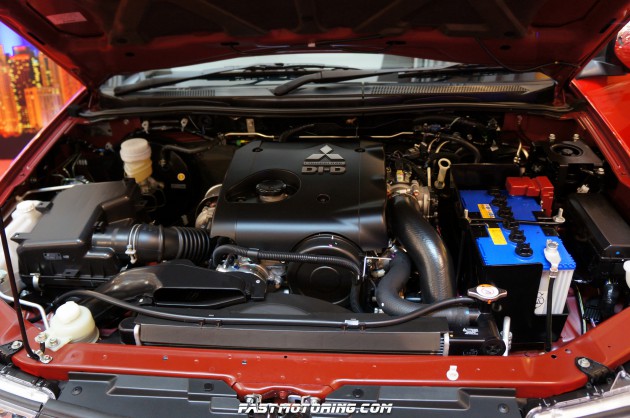 The VGT (Variable Geometry Turbo) model comes with a 2.5litre powertrain diesel engine which produces a maximum output of 178PS at 4,000rpm and maximum torque at 350Nm from 1,800rpm – 3,500rpm. The VGT GS also comes with a 5-speed automatic gearbox. 
The VGT GS is the only pick-up truck to be fitted with Hybrid Limited Slip Differential (LSD) that gives the vehicle excellent off-road response. Hybrid LSD combines the torque-sensing benefit of helical gears and the speed-sensing of a viscous coupling unit, all of it designed to work alongside ABS and EBD. 
The Triton's are all equipped with Misubishi's Easy Select 4WD system that allows the driver to 'shift on the fly' from 2WD to 4WD at speeds of up to 100km/h.
Mitsubishi Motors Malaysia have priced the facelifted Triton's at :-
RM82,185.70 – 2.5MT STD
RM 90,377.80 – 2.5 MT
RM95,247.80 – 2.5 AT
RM107,809.60 – VGT GS
All prices are quoted based on the road price without insurance. All owners get to enjoy a 3-year/100,000km/h warranty as well as Mitsubishi's 2-years free maintenance package (T&C applies)
Color variants are available with Cool Silver Metallic, White Pearl and Black Mica for the 2.5MT STD, 2.5MT and 2.5AT models. While the VGT GS will be available in Red Solid, White Pearl and Black Mica. 
[nggallery id=662]