One of Australia's most heavily modified Toyota 86s is drawing closer to its competition debut at round two of the Australian Drifting Grand Prix. Australian drift champion Beau Yates has put significant effort into preparing his new Toyota 86 drift car over much of 2013.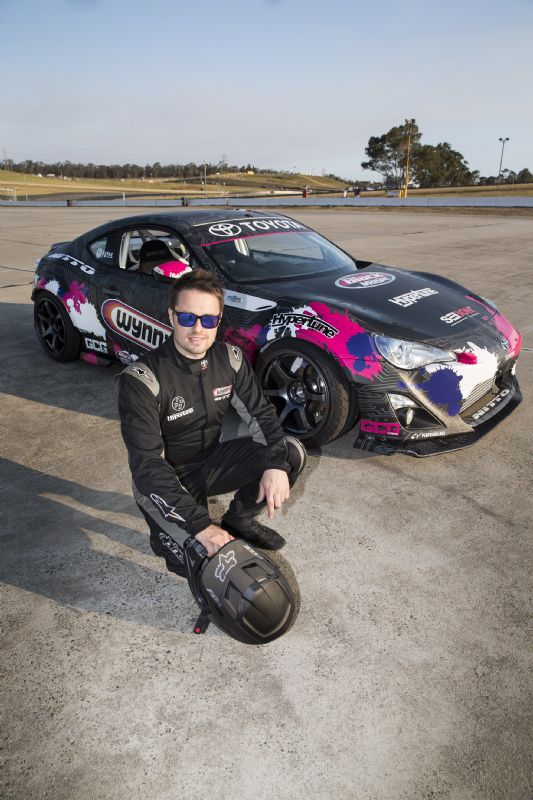 The new car takes over from Yates' famous 1984 Toyota AE86 in which he has competed since 2004, winning multiple titles including the 2006 Australian Drift Championship and becoming the first CAMS-affiliated drift driver.
The build includes a heavily modified, turbocharged version of the factory FA-20 engine (producing 346kW with 22psi of boost), a sequential transmission, all new suspension and brakes, modified steering and substantial body and interior changes.
The development of the car, which Yates was so dedicated to that his own wedding date was pushed back, created numerous details which set the car apart from other modified Toyota 86s.
While its modifications are extensive, Yates made an effort to keep many of the elements that make the road-going 86 an enjoyable drive.
"Retaining the factory engine is a key aspect of the build, because a lot of people have modified 86s with aftermarket motors – six-cylinders or V8s," Yates said.
"But Toyota knows how to engineer a car, and when you switch to a heavier engine you upset the balance. The stock engine is lightweight, has a low centre of gravity, is efficient and has proven it can produce a lot of power."
Yates' Toyota 86 Modifications List
• Toyota FA-20 engine with sleeved block, forged pistons, Garrett 3076GTX turbocharger, dry sump – 346kW at 22psi boost
• Motec M150 engine control unit with C125 dash
• Tractive RD906 six-speed sequential gearbox
• Modified factory steering rack and arms for more steering lock
• Front cross-member moved to mount engine closer to the cabin
• BC Racing coilover suspension, TRD swaybars, custom lower control arms, increased negative wheel camber
• Hydraulic handbrake
• Koya RG Tek 18-inch wheels with Nitto NT05 tyres
• Rocket Bunny wide body kit, Seibon dry carbon fibre bonnet and boot
• Lexan side and rear windows
• Bride seats, Nardi steering wheel, Macrosuede wrapped dashboard
• GD Racecars custom roll cage