In the new 2013 F1 season, Mercedes-AMG deployed the SLS AMG GT with 591hp and the C63 AMG Estate with 487hp at the direction of Race Control officials usually when weather or incidents are considered to impact on the safety of a race. The two AMG high-performance cars had their first appearance at the opening race of the F1 season in Melbourne last weekend for 2013 F1 ROLEX Australian GP. The 2nd race of the F1 season, the 2013 Petronas Malaysia Grand Prix will take place this weekend.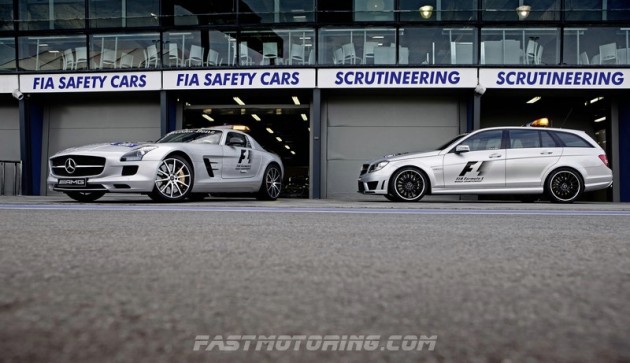 The main reasons for intervention by the Safety Car are poor weather conditions or accidents. The Official F1 Safety Car is driven by Bernd Mayländer from Germany and his co-driver, the FIA‑employee Pete Tibbetts from Great Britain.
Bernd Mayländer: "We are on standby in the pit lane in the Official F1 Safety Car, waiting for a radio message from Race Control." When the need arises, the aim is to guide the field safely around the track until the danger no longer exists. The racing driver from Schorndorf has been the official driver of the Safety Car for the FIA since 2000. As a former DTM driver he is also active as an instructor for the AMG Driving Academy and as a Mercedes-Benz brand ambassador at selected events.