The Malaysia Grand Prix season is back for 2013. Before the race in the second venue starts, Infiniti Red Bull Racing and former F1 driver David Coulthard gave local Infiniti owners a truly special experience today in Kuala Lumpur.
[singlepic id=13942 w=630 h= float=]
During the event, the 13-time Formula One Grand Prix winner gave insights into the life of a Formula One driver and took owners closer than ever to Formula One with a sneak peak at the workings behind the scenes of Infiniti Red Bull Racing. He shared his experience in performance driving and the importance of not just speed but precision handling and teamwork to achieve success in Formula One.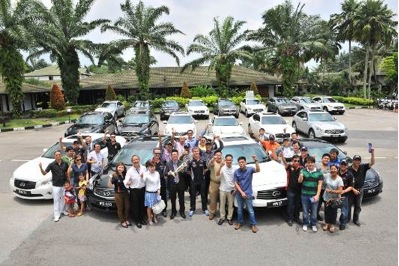 The highlight of the event was the opportunity for Infiniti owners to drive with Coulthard, who personally led a convoy from the Infiniti Center, Bukit Bintang to Cyberview Resort & Spa (Cyberjaya). It was a thrilling moment for Infiniti owners as they also got the opportunity to have their photograph taken alongside the FIA Formula One Constructors' World Championship Trophy.
Infiniti has been an active participant in Formula One since 2011. Since that inaugural season the technical collaboration with three-time FIA Formula One Constructors' World Champions has deepened. Infiniti starts the 2013 season as Title Partner and Vehicle Performance Partner of the renamed Infiniti Red Bull Racing with shared engineering expertise and deepened collaboration across people, processes and technologies.
"It is a great way to be associated with the high technology and performance required by the Formula One standards. It was truly an honor to have David Coulthard spend time and share his Formula One experiences with our valued Infiniti owners" said Senior General Manager of Inspired Motor Sdn Bhd, Christopher Tan.
Global Director of Infiniti Formula One, Andreas Sigl commented: "We've established a number of workstreams which are already underway to build our technical collaboration across the specific areas of people, processes and technologies. Our aim is to have a team of engineers working with the Formula One programme, helping us bring Infiniti Red Bull Racing's ways of working and performance expertise to our road car operation. The collaboration will also enable us to bring Formula One-inspired technology to our road cars."
Photo Gallery: Infiniti Red Bull Racing in Malaysia
[nggallery id=612]