Alex Yoong got a double victory over the weekend Audi R8 LMS Cup in Zhuhai for Rounds 7 & 8. Audi GQ driver Alex Yoong of Malaysia took victory in Round 8 of the Audi R8 LMS Cup at the 4.3km Zhuhai International Circuit to take home maximum points haul.  His pole position and two wins bring him back into contention for the overall title.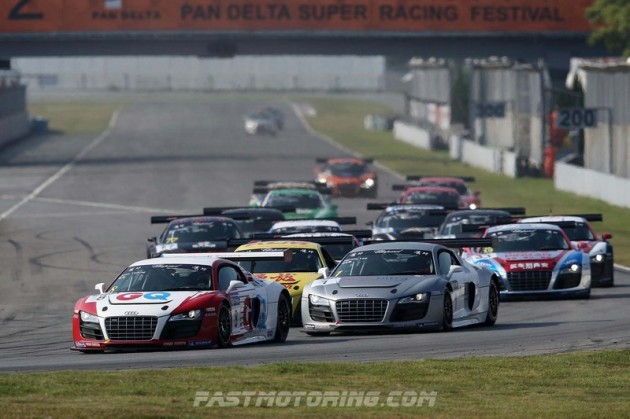 Follow by Alex Yoong, second across the line was championship leader Marchy Lee with Audi Ultra, giving him an eight point advantage over KLM Team's Adderly Fong. Fong was third in the race for the second time this weekend, and is just two points head of Yoong.
For the second time in as many races, all 16 cars finished, proving once again the reliability of Audi technology and the groundbreaking new long life Michelin tyres, with just one set maintaining their performance through qualifying and two, 21-lap races. Marchy now has an eight point advantage over second-placed Fong, who is just two points ahead of Alex after a dominant performance in Zhuhai.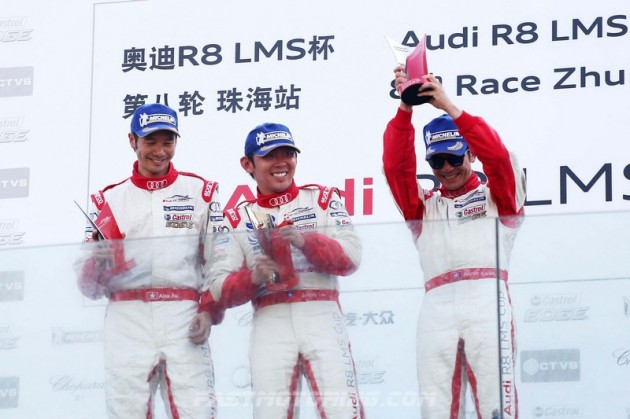 In the Amateur Cup, Jeffrey Lee of Pauian Archiland J-Fly Racing took his second successive victory having jumped back to the top of the class standings following his win in Round 7.  Second across the line was AK Racing's Alex Au, but he was later handed a 30 second penalty for an incident with Audi Driving Dreams' Massimo Vignali, which demoted him to third.  That promoted Aaron Kwok, who again had to fend off stiff competition in the race, this time from Spark Motorsport's Hugues Ripert, to second in the category.
Although Alex Yoong got away well at the rolling start for the 21-lap race, Marchy was alongside going in to Turn 1, but the Alex held firm into the corner.  Marchy continued to push hard to catch his rival, setting the fastest lap on Lap 5.  Series newcomer David Zhu of Team Zhe Jiang Aotong mounted an early challenge to Fong for third, but the leading trio of Yoong, Marchy and Fong soon began to pull away from the pack.
Mid way through the race, two heated battles for position developed.  The first between Zhu and Sun Zheng, and the second between Sun Chao of the PD Group Team who was fending off unrelenting attacks from Team Betterlife's Wang Jian Wei.  While Sun Chao resisted well, Wang finally found his way past on Lap 14 to go seventh, and began pulling away from his rival.  Zhu held firm and crossed the line fourth for the second time this weekend on his impressive Audi R8 LMS Cup debut.
Amateur Cup driver Au was also on a charge, making contact with Vignali, who had started from eighth on the grid, on Lap 15 to go ninth in the running order.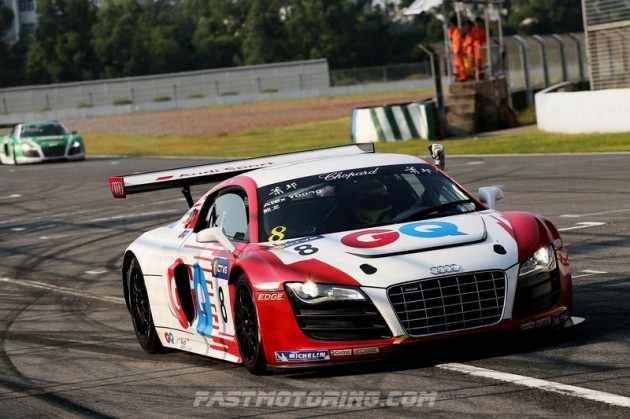 Alex Yoong continued to build up a lead at the front, crossing the line 3.514 seconds ahead of Marchy Lee at the flag.
Commented Director of Audi Sport customer racing in China, Rene Koneberg: "The weekend has shown the high level of talent amongst the Audi R8 LMS Cup drivers.  Close, fair racing over two exciting rounds proved the reliability of Audi technology and the new, one-set racing tyre from Michelin.  I am delighted that all 16 cars finished in both races this weekend."
Round 8 – Results 
No

Comp No

Name

Class

Entrant

Time

1

8

Alex YOONG (MAS)

 

Audi GQ

34:32.490

2

1

Marchy LEE (HKG)

 

Audi Ultra

+3.513

3

68

Adderly FONG (HKG)

 

KLM Team

+6.282

4

6

David ZHU (CHN)

 

Team Zhe Jiang Aotong

+9.033

5

33

SUN Zheng (CHN)

 

Team Erdos Xinan

+20.278

6

7

Jeffrey LEE (TPE)

Am

 

Pauian Archiland J-Fly Racing

+30.132

7

9

WANG Jian Wei (CHN)

 

Team Betterlife

+32.234

8

77

SUN Chao (CHN)

 

P D GROUP Team

+42.148

9

27

Massimo VIGNALI (GBR)

 

Audi Driving Dreams

+1:02.005

10

88

Aaron KWOK (HKG)

Am

Team Audi R8 LMS Cup

+1:13.351

11

23

Alex AU (HKG)

Am

AK Racing

+1:19.159

12

3

Hugues RIPERT (HKG)

Am

Spark Motorsport

+1:27.400

13

99

TIAN Li Ying (CHN)

 

Team Chengdu New Elements

+1:27.547

14

66

ZHANG Ran (CHN)

Am

Audi Castrol

1 Lap

15

13

Adrian FU (HKG)

Am

FuSpeed Racing

1 Lap

16

75

Eric HSIANG (TPE)

Am

J-Fly Racing Team

2 Laps
(AM) Amateur Cup Competitor
Fastest Lap:  Marchy Lee/Audi Ultra/1:37.931/156.855kph
Points after Round 8:
Overall Classification (top 5)
| | | |
| --- | --- | --- |
| 1 | Marchy LEE (HKG) | 146 |
| 2 | Adderly FONG (HKG) | 138 |
| 3 | Alex YOONG (MAS) | 136 |
| 4 | SUN Zheng (CHN) | 83 |
| 5 | Jeffrey LEE (TPE) | 61 |
Amateur Cup Classification (top 5)
| | | |
| --- | --- | --- |
| 1 | Jeffrey LEE (TPE) | 128 |
| 2 | Aaron KWOK (HKG) | 99 |
| 3 | Byron TONG (HKG) | 94 |
| 4 | Alex AU (HKG) | 83 |
| 5 | Adrian FU (HKG) | 73 |