At the 2012 Geneva Motor Show, Lamborghini is presenting the most uncompromising open supercar of its entire history, the Lamborghini Aventador J.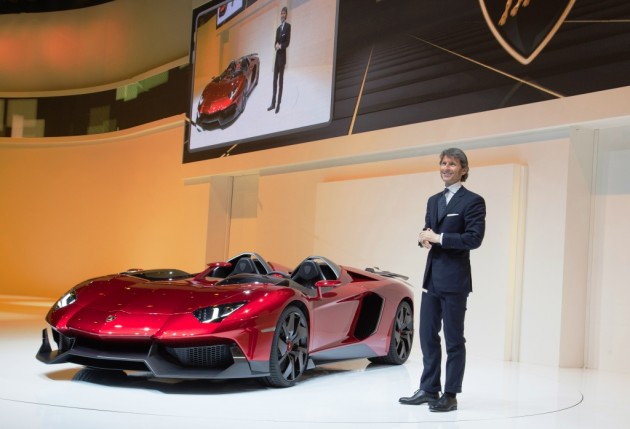 The two-seater Lamborghini Aventador J comes with 515kW/700hp combining innovative solutions and brand new materials and demonstrating Automobili Lamborghini's enormous expertise in carbon fibre technology.
Precisely, the technical basis for the Aventador J is the Aventador LP 700-4, Lamborghini's new V12 model. Presented in 2011, the Aventador has been acclaimed by customers and journalists worldwide alike. The Lamborghini Aventador LP 700-4's technology package is unique – its structure is based on an innovative monocoque made from carbon fibre reinforced polymers that combines systematic lightweight design with optimum stiffness and safety. The new twelve-cylinder with a displacement of 6.5-litres and 515 kW / 700 hp combines the best in high-revving thrills with mighty pulling power. Its super-fast ISR transmission, permanent all-wheel drive and push-rod suspension combine this potent power with the utmost handling precision.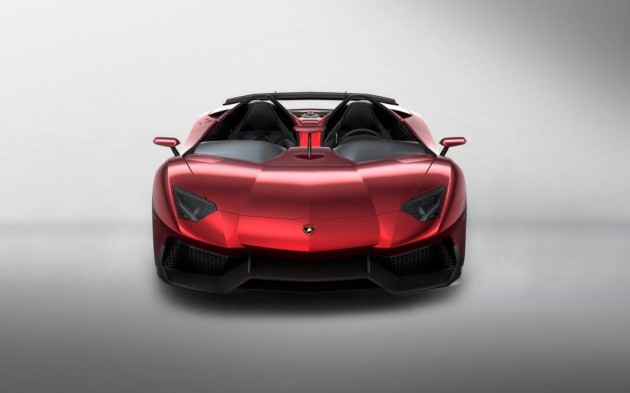 The Lamborghini Aventador J is a radically open automobile – exterior and interior meld into each other. The designers and engineers in Sant'Agata Bolognese have not only dispensed entirely with the roof, but also with the front windshield. This requires that drivers of the Aventador J must have the right equipment for driving at top speeds higher than 300km/h.
The letter J is derived from the sporting rules of the FIA world motorsport organization. Its "Appendix J" defines the technical specification of race cars in the various classes.
 "With the Lamborghini Aventador J, we have moulded our brand DNA into its most definitive form to date. This automobile is as extreme and as uncompromising as only a Lamborghini can be," says Stephan Winkelmann, President and CEO of Automobili Lamborghini. "The new Lamborghini Aventador J is the most radical open supersports car of Lamborghini's history. Its name comes from our tradition and combines an unconventional design with technology innovation. Nowadays we are confronted with several regulations that we face in the spirit of challenge. The Aventador J is the proof that, despite the rules, Lamborghini will always make people dream, even in the future."
Continuation of a glorious tradition With the Aventador J, technically based on the Aventador, Automobili Lamborghini is carrying on its glorious brand tradition. The 1970 Jota, for instance, was the stuff of legends – a Lamborghini Miura with improved performance and virtually redesigned in every detail. It remained a one-off; although some owners subsequently had their Miuras modified to look like the Jota.
The Lamborghini Aventador J is a super sports car of positively dramatic single-mindedness and openness. It combines the overwhelming performance of the Lamborghini Aventador with the most intense experience of power and dynamics imaginable in an automobile.