The new third-generation of Audi A3 will debut at the 2012 Geneva Motor Show. The new A3 will go head-to-head with the BMW 1-Series and the new Mercedes-Benz A-Class in the competitive luxury compact segment.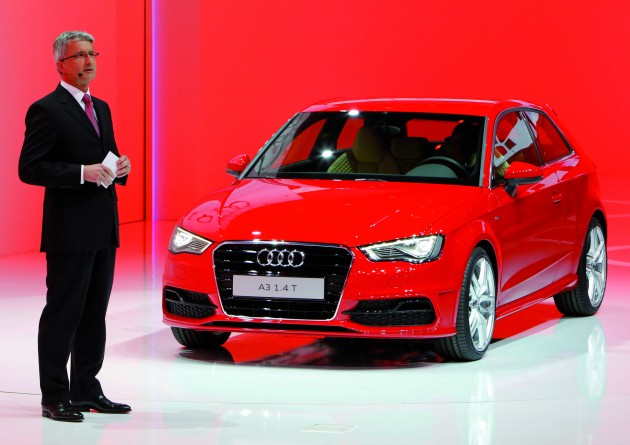 The new Audi A3 will launch with 3 variants. The two TFSI and one TDI engine will be available when the Audi A3 launches in Europe in September. Their power levels are 90 kW (122 hp), 132 kW (180 hp) and 110 kW (150 hp). All three variants incorporate direct injections, turbo-charging and stop-start technology, contributing to fuel consumption improvements of 12% on average. 
[singlepic id=9702 w=620 h= float=]
The 1.8 TFSI operates together with a standard seven-speed S tronic; the 1.4 TFSI and 2.0 TDI are paired with a six-speed manual gearbox. In each case, engine power is always transferred to the front wheels; quattro permanent all-wheel drive – and other engines, including a 1.4 TFSI engine with innovative cylinder on demand technology from Audi – will follow over the course of the next few months.
[singlepic id=9708 w=620 h= float=]
The 1.4 TFSI offers output of 90kW/200Nm. It sprints from 0-100km/h in 9.3 seconds and uses 5.2L/100km according to European standards. The more powerful 132kW/250Nm 1.8 TFSI takes 7.2 seconds in acceleration time, top speed 232 km/h, combined fuel consumption of 5.6 litres per 100km, equivalent to 130 g CO2 per km.
[singlepic id=9711 w=320 h= float=center]
The 2.0 TDI also offers a high-performance thermal management system. Its two balancer shafts were relocated from the oil pan to the crankcase, which clearly improved smooth engine running. Producing 110kW/320 Nm, this diesel delivers great performance. The A3 2.0 TDI sprints from a standstill to 100 km/h in 8.6 seconds and reaches a top speed of 216 km/h. In combined mode, it only requires 4.1 litres per 100km, equivalent to CO2 emissions of 106 g per km.
[singlepic id=9715 w=620 h= float=]
The chassis of the new A3 combines sporty driving fun with good comfort and impressive stability. The wheel suspensions form the foundation here, and the finely tuned power steering system has a highly efficient electromechanical drive. The ESC stabilization control integrates the electronic limited slip differential, which makes handling even more fluid and safe at performance limits when driving through curves.
The optional Audi drive select system lets the driver vary the operating modes of key components – such as steering, the accelerator pedal and transmission characteristics (with S tronic) – for a customizable driving experience. It also incorporates the optional adaptive shock absorbers; they utilize magnetic ride technology from Audi. Wheels range from 16 to 18 inches in diameter.
The base price of the Audi A3 with the entry-level engine, which will follow around the end of the year, will be 21,600 euros in Germany.
Photo Gallery: 2013 Audi A3
[nggallery id=448]