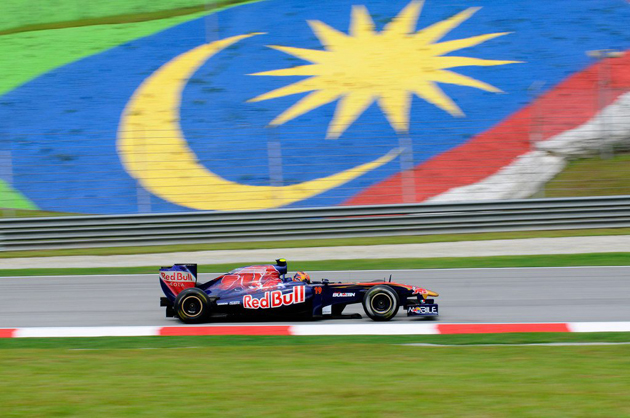 After 56 laps of race at 2011 Formula 1 Petronas Malaysian Grand Prix, Red Bull driver Sebastian Vettel won the Formula One Malaysian Grand Prix on Sunday.
Sebastian Vettel led throughout to win by 3.2 seconds from McLaren's Jenson Button, with Renault's Nick Heidfeld hanging on for third.
Red Bull's Mark Webber recovered from a poor start to claim fourth place, with Ferrari's Felipe Massa fifth. Ferrari's Fernando Alonso and McLaren's Lewis Hamilton had a collision in the closing laps that dropped them down to sixth and seventh respectively.
2011 FORMULA 1 PETRONAS MALAYSIA GRAND PRIX
Pos
No
Driver
Team
Laps
Time/Retired
Grid
Pts
1
1
Sebastian Vettel
RBR-Renault
56
Winner
1
25
2
4
Jenson Button
McLaren-Mercedes
56
+3.2 secs
4
18
3
9
Nick Heidfeld
Renault
56
+25.0 secs
6
15
4
2
Mark Webber
RBR-Renault
56
+26.3 secs
3
12
5
6
Felipe Massa
Ferrari
56
+36.9 secs
7
10
6
5
Fernando Alonso
Ferrari
56
+37.2 secs
5
8
7
3
Lewis Hamilton
McLaren-Mercedes
56
+49.9 secs
2
6
8
16
Kamui Kobayashi
Sauber-Ferrari
56
+66.4 secs
10
4
9
7
Michael Schumacher
Mercedes
56
+84.8 secs
11
2
10
15
Paul di Resta
Force India-Mercedes
56
+91.5 secs
14
1
11
14
Adrian Sutil
Force India-Mercedes
 
+ 1 Lap
17
 
12
8
Nico Rosberg
Mercedes
 
+1 Lap
9
 
13
18
Sebastien Buemi
STR-Ferrari
 
+1 Lap
12
 
14
19
Jaime Alguersuari
STR-Ferrari
 
+1 Lap
13
 
15
20
Heikki Kovalainen
Lotus-Renault
 
+1 Lap
19
 
16
24
Timo Glock
Virgin-Cosworth
 
+2 Lap
21
 
17
10
Vitaly Petrov
Renault
 
+4 Lap
8
 
Ret
23
Vitantonio Liuzzi
HRT-Cosworth
 
+10 Lap
23
 
Ret
25
Jerome d'Ambrosio
Virgin-Cosworth
 
+14 Lap
22
 
Ret
21
Jarno Trulli
Lotus-Renault
 
+25 Laps
20
 
Ret
17
Sergio Perez
Sauber-Ferrari
 
+33 Laps
16
 
Ret
11
Rubens Barrichello
Williams-Cosworth
 
+34 Laps
15
 
Ret
22
Narain Karthikeyan
HRT-Cosworth
 
+42 Laps
24
 
Ret
12
Pastor Maldonado
Williams-Cosworth
 
+48 Laps
18