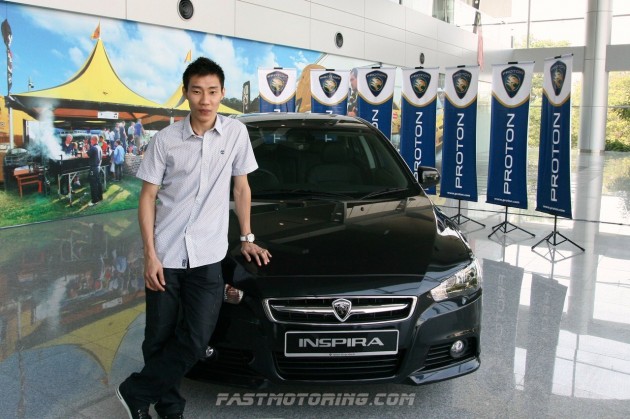 We are here at Proton's Centre of Excellence to witness it!
In recognition of Malaysian badminton hero Datuk Lee Chong Wei in the international badminton arena, Proton presented a brand new metallic black Proton Inspira 2.0P to honour his accomplishments. This morning, the mock key is handed over by Proton Chairman Dato' Sri Mohd. Nadzmi, who is also the President of Badminton Association of Malaysia (BAM).
Proton is honoured and indeed privileged to have the brand represented by such an accomplished local celebrity sports man and World No.1. This gesture of recognition is an extension of our existing support for the sport of badminton and its development, said Proton Chairman Dato' Sri Mohd. Nadzmi.
Datuk Lee had clinched the prestigious All-England title for the second time running this year, making him the best singles badminton player in the world. Accordingly, he will be using this black colour Inspira 2.0P for his daily travelling including badminton events while he is also known to own a Nissan GT-R (R35).
Next, probably you will spot Datuk Lee in his new black Proton Inspira 2.0P beside you when you are on the road.