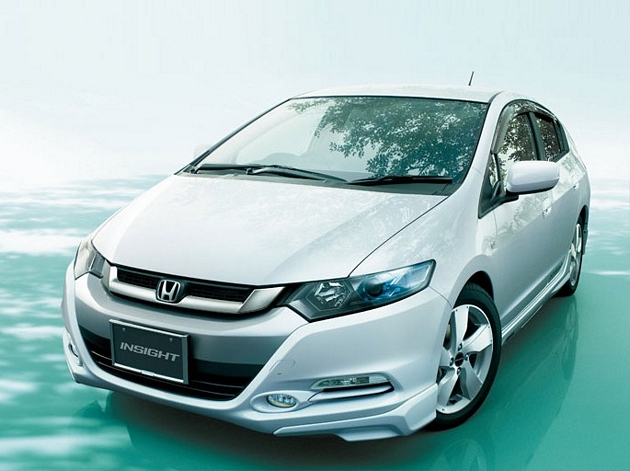 It is officially official from Honda Malaysia that the Japanese Automaker is introducing the All-New Insight to the Malaysia market at the Kuala Lumpur International Motor Show 2010 (KLIMS 2010).
In his speech during the launching ceremony of All-New Honda Insight, Mr. Shigeru Yamazaki, Director of Honda Malaysia and General Manager of Automobile Business Division at Asian Honda announced the good news that the warranty of the All-New Insight's battery, which is the driving force of the hybrid's electric motor, will be extended to further encourage the use of hybrid vehicles here. In addition to the 3-year warranty offered by Honda Motor, Japan, Honda Malaysia is extending another 2 years on top of that. The 5-year or 140,000 km warranty, depending on which comes first, is our commitment to promote the use of hybrid technology and to provide better customer satisfaction, he said. Furthermore, Honda Malaysia will be reducing the price of the All-New Insight spare parts, especially its battery by more than 40%.
Technically, the All-New Insight is created to cater for exceptional fuel economy. It is powered by Honda's new generation of Integrated Motor Assist (IMA) System that ingeniously recaptures and stores kinetic energy from vehicle braking and deceleration, and supplies additional power for acceleration when needed. It consists of a 65-kilowatt (88PS) 1.3liter SOHC i-VTEC engine, a 10-kilowatt (14PS) electric motor mated with continuously variable automatic transmission (CVT) and a newly improved Intelligent Power Unit (IPU) that has been made 19% more compact and 28% lighter in size for the All-New Insight. This smaller and more compact IPU has been relocated under the floor of the cargo area to create a 400-litre trunk space that could accommodate up to 3 golf bags; and a 60:40 split backseat that can be folded down flat to give a 584-litre flat cargo load area.
[singlepic id=4558 w=630 h= float=]
To further guide owners to realize the full benefits of Insight, it features a new interactive, driver-focused fuel economy assist technology called the Ecological Drive Assist System (Eco Assist). It combines multiple functions: a driver-activated ECON mode (stands for Effective Control) that optimizes control of the CVT, engine and related powertrain components to further improve vehicle fuel efficiency; a driver feedback function that uses an innovative speedometer display with changing background colours to provide real-time guidance to the driver on achieving higher fuel efficiency; and a unique fuel-economy scoring function using a plant-leaf graphic to provide feedback to the driver on current-trip driving efficiency and lifetime fuel-efficient driving performance.
In terms of safety standard, the All-New Insight has obtained a 6-star JNCAP safety rating for driver and 5-star JNCAP safety rating for passengers.
In Malaysia, the All-New Insight is targeted at eco-oriented individuals who believe in doing their part to protect the earth for future generations The All-New Insight comes in four(4) colours – Premium White Pearl; Dyno Blue Pearl II; Alabaster Silver Metallic; and Crystal Black Pearl. This Hybrid Car come with 16″ Alloy Wheels wrapped around with 185/55R16 tyres.
All potential customers can now place their booking of the All-New Insight at all authorised Honda dealers nationwide.
Honda Insight – Price List (RM) in Malaysia  (On-The-Road Price with Insurance)
Peninsular Malaysia – RM 98,000.00
Kota Kinabalu – RM 99,000.00
Kuching – RM 99,000.00
Labuan – RM 90,000.00
Langkawi – RM 90,000.00
Miri & Sibu – RM 99,000.00

Photo Gallery: 2010 Honda Insight
[nggallery id=181] [nggallery id=191]