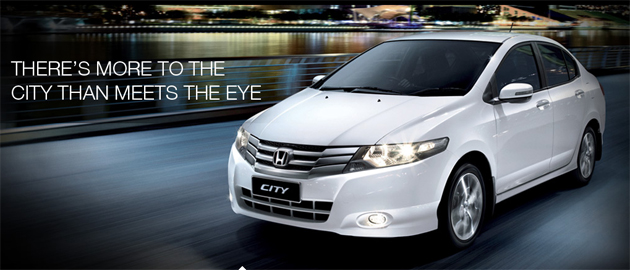 Honda City in White has been introduced by Honda Malaysia. The new colour code used on this City would be Taffeta White.  With this, there are now 4 colours which is Taffeta White, Alabaster Silver, Polished Metal, and Crystal Black Pearl – Blue has been taken out in this case.
Both Honda City variant if Grade E and Grade S is available for this new colour. This new colour on the Honda City is the same white which you have seen in Honda Accord, Honda CR-V, as well as Honda Civic. Honda City Grade E is selling for RM 90,480 and Grade S is selling for RM 85,480.
Since it's launch in December 2008 , the current version of Honda City has sold more than 36,000 units in Malaysia to date.Honda Malaysia is expecting to sell more Honda City each month with a total now of 1,700 units and this new attractive white City will contribute 40% of it which is 680 units.
We expect Honda City will have a facelift in somewhere middle next year. Thanks for the tip Jit !