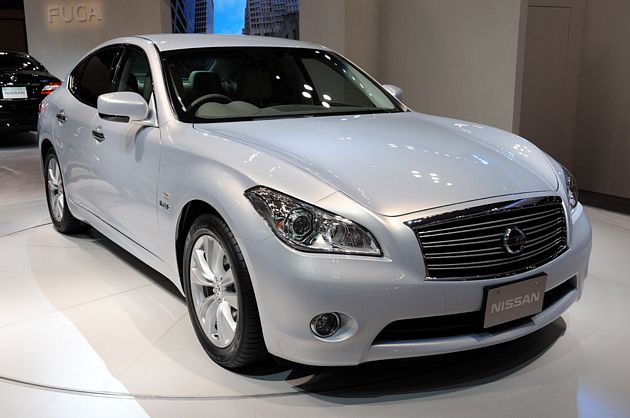 Nissan Motor Co. introduced the new hybrid vehicles called Fuga in Japan. The hybrid goes on sale in Japan Nov. 2, starting at nearly 5.8 million yen – more expensive than the regular gasoline version which starts at about 4.3 million yen.
It is planned for sale in the U.S. early next year and also for Europe, although that date was not disclosed. Nissan is targeting sales of 200 vehicles a month in Japan. Nissan Chief Operating Officer Toshiyuki Shiga said sales will likely be bigger than 200 in the U.S., where the Infiniti is popular, but did not give a number or price tag.
Mileage is estimated at 19 kilometers a liter under Japanese test-driving conditions, about double the comparable gas-engine vehicle.
The car comes with the same stylish design, fancy interior and expensive sound system that are the trademark of the Infiniti luxury brand. But as a hybrid, it switches between a gasoline engine and an electric motor to deliver a more efficient drive, reducing emissions and boosting mileage. "This premium car delivers both the highest quality mileage and the highest quality drive," Shiga told reporters.
The Nissan hybrid is packed with a lithium-ion battery instead of nickel metal hydride batteries that fitted on Toyota Prius. Nissan works with Japanese electronics maker NEC Corp. on the batteries.