Shell Malaysia recently just launch it's New Fuel, or shall i say it's a reformulated RON 97.  Adapting from the V-Power Racing, Shell's RON 97 Fuel will be rebrand as V-Power 97. You should be able to see some red banners with V-Power 97 in most Shell stations by now. The fuel pump colour standards for Shell Malaysia will be Yellow for RON 95, Green for V-Power 97 and Red for V-Power Racing.

Marketing gimmick aside, Shell V-Power 97 is claimed to have a innovative formula design to optimize your car performance. It is said to design to unleash the power more quickly and deliver sustained performance. The unique formulation of V-Power 97 is designed to deliver more power by improving the combustion of your engine.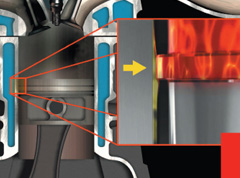 The Shell V-Power 97 is using the same "Friction Modification Technology" which is also in the Shell V-Power Race fuel used  by Ferrari Formula One cars. Its propose is to reduce friction between the engine parts.  As the fuel spray into the combustion area Shell's V-Power 97 create a surface coating component protection the engine cylinder and the piston. This also helps to optimize energy to be more efficient transfer to the wheels.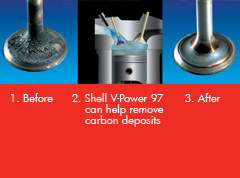 Not only performance is improve in the Shell V-Power 97. The new formulation for Shell's Ron 97 (V-Power 97) also prevent or should the build-up of power-robbing deposits on the engine's valves & injection system. It also helps to clean the existing deposits thus this will improve the responsiveness of your engine. Shell claims that if drivers used Shell V-Power regularly, drivers will notice their car performing like new for a longer period and from certain scenario V Power 97 can help rejuvenate your aged cars.
Shell is offering it's new formulated V-Power 97 at the regular price of a RON 97 petrol which is RM2.05 per litre.
What about Shell V-Power Racing ? Long story short – it's even better when compare to Shell V-Power 97. We suggest you give the Shell V-Power 97 a try on your next tank of petrol and tell us how good is it below.
Click here for a list to find out which Shell Petrol Station near you has the new Shell V-Power 97 Fuel.