Shell Malaysia announced on June 1st that its low sulphur fuel for modern diesel engines, Shell FuelSave Diesel Euro 5 is now available in over 85 stations across Peninsular Malaysia.
Is it more reason now to get an Audi TDI or a BMW 320d?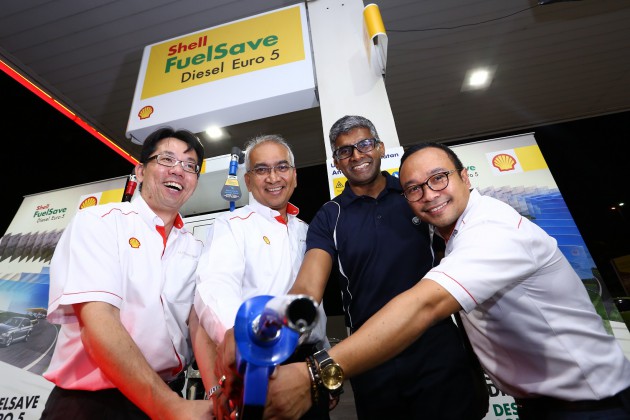 The rollout of the fuel is in accordance with the company's plans to expand to at least 100 stations nationwide, offering motorists high-quality fuel, fuel efficient diesel that can help them unlock better performance and efficiency from their vehicles. With plans to make the product available on connecting roads from Johor to Penang, as well as on the East Coast in Terengganu, Shell is intent on ensuring a wide coverage of stations offering the product.
"As one of the leading fuel retailers in Malaysia, Shell understands the importance and the need for high-quality, efficient fuel. For over 125 years, we have been a trusted partner to the country, working together closely to advance the oil & gas industry through innovation. The rapid expansion of Shell FuelSave Diesel Euro 5 availability is a showcase of our promise to continue fuelling Malaysia's progress, and an affirmation of our commitment to meeting the needs of our customers" said Datuk Haji Azman Ismail, Managing Director Shell Malaysia Trading Sdn. Bhd. and Shell Timur Sdn. Bhd.
Since its launch in December last year, Shell sees over 3,000 diesel vehicles refuel each day with Shell FuelSave Diesel Euro 5, which features Active Efficiency Ingredients and is designed to improve engine efficiency from the very first tank, helping vehicles use fuel less quickly. More than that, the fuel also has a special detergent designed to maintain modern engines by helping prevent the build-up of injector deposits.
The newest specification of diesel fuel from Shell has an ultra-low sulphur content of only 10 parts per million (ppm) of sulphur compared with 500 ppm of sulphur in Shell FuelSave Diesel Euro2M.
Shell FuelSave Diesel Euro 5 is acceptable for all diesel engine vehicles. However, when used with compatible Euro 5 engines, Shell FuelSave Diesel Euro 5 enables the advanced engine and emission control systems to perform optimally, just as they were designed to, while reducing emissions.
For the full list of stations offering Shell FuelSave Diesel Euro 5, please visit www.shell.com/dieseleuro5.