Proton Satria Neo  R3 Lotus Racing edition with Tuned 1.6 Campro CPS engine by Race Rally Research (R3) – Proton's tuning division uncovered. With upgrades about RM60,000 of equipments and tuning from a standard Proton Satria Neo CPS, this mean machine receive a 145 bhp and 168 Nm of torque from a 1.6 engine. Judging by this figure, it is impressive.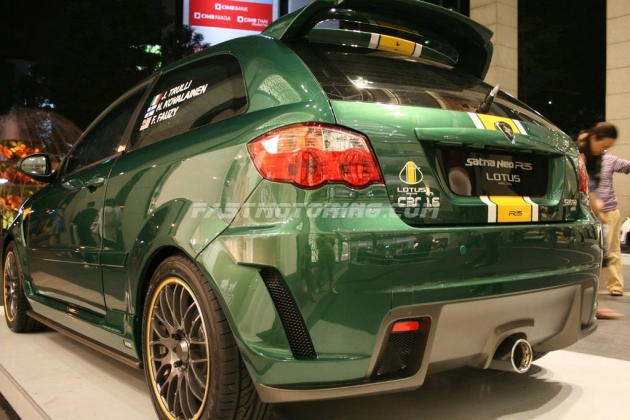 However Proton only able to claims 9.2 second on this Proton Satria Neo CPS R3 Lotus Racing Edition. Another highlight of this car would be – it costs RM115,000. Many would think this it's too much to pay for a Satria Neo. Let me walk you through the upgrades that has been done. The Satria Neo R3 Lotus Racing edition looks some what fimilar from the Satria Neo R3, but Proton claims that claims it's front back bumper are make with Race Proven FRP material and improved Aerodynamics.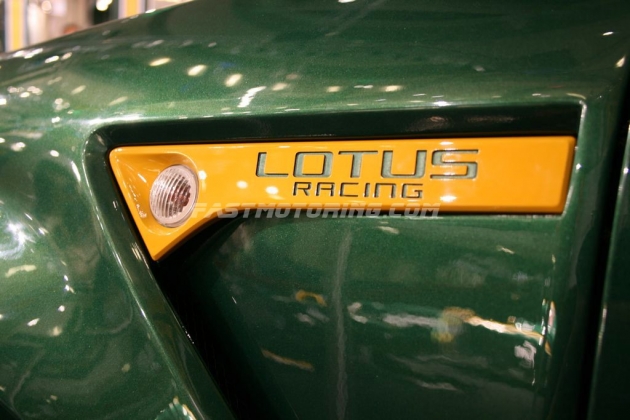 The Proton Satria Neo R3 Lotus Racing Edition is inspire by Lotus. Therefore, there's only one colour available – which is Lotus' Green. The car here, it's also style with some sporty elements such as yellow racing stripes and carbon fiber materials all over the car. From the outlook, the most signification difference would the be widen fenders with air vents and a Lotus badge on it.
Check out the Video As We walk you through the Satria Neo R3 Lotus Racing Edition.
The heart of the Proton Satria Neo R3 Lotus Racing Edition is using the 1.6 Campro CPS which can be found on the conventional Satria Neo CPS. The displacement remained as 1597cc with maximum output of 145bhp @ 7,000rpm and torque of 168Nm @ 5,000rpm. This limited edition only comes with Manual Transmission.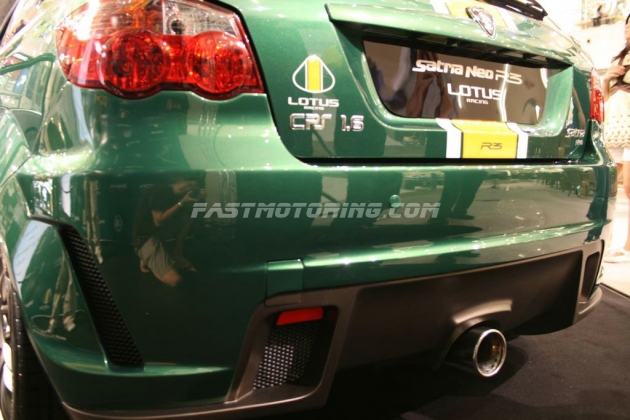 Mainly, the power train enhancements for the Lotus Racing Edition have added R3 Engine Management System, R3 Camshaft with Adjustable Alloy Cam, R3 Alloy under drive pulleys, R3 Titanium Manifold Extractor, R3 Tuned Exhaust System and R3 Carbon Fibre Air Intake with K&N Filter inside.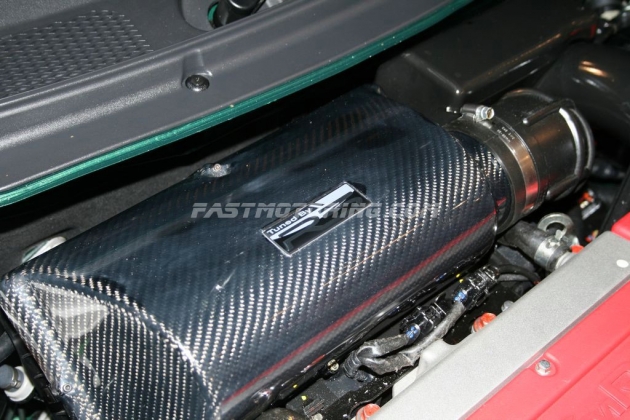 After a short chat with the R3 representative, he mentioned that the gearbox final gear ratio has been replaced with closer ratio gear for better acceleration which not listed on the brochure and the rest of the components besides the enhancements are similar to conventional Satria Neo CPS. Therefore, there will not be any problem getting an experienced mechanic to service and maintaining the car. Photo below shows R3 Aluminum Gear Knob.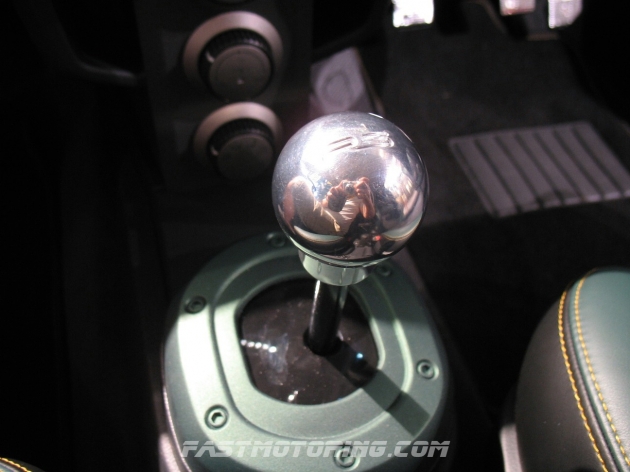 The performance result was average at its class with no surprises of maximum speed of 200km/h and 0-100 km/h in 9.2secs. In fact, the Proton Satria GTi R3 that was introduced in late 2004 with 1.8L 4G93P perform even better with 0-100 km/h in 8.2secs and 140whp @ 6100rpm.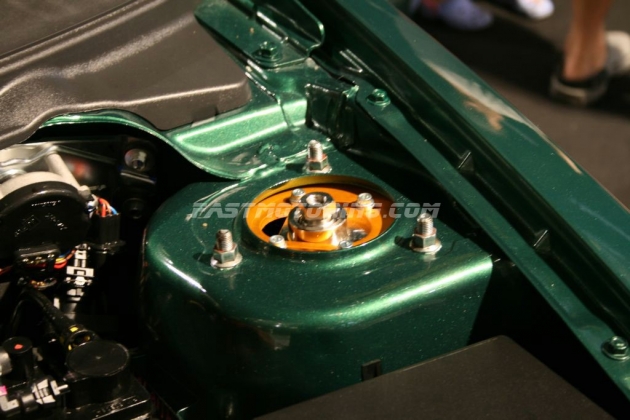 A set of Ohlins DFV (Dual Flow Valve) fully adjustable coil-over suspension with R3-tuned spring and damper rates are fitted to the car. The car benefits with lower ride height, stiffened rubber suspension bushes and revised suspension geometry. This allows the driver to have a better handling, more responsive steering feedback and better cornering precision.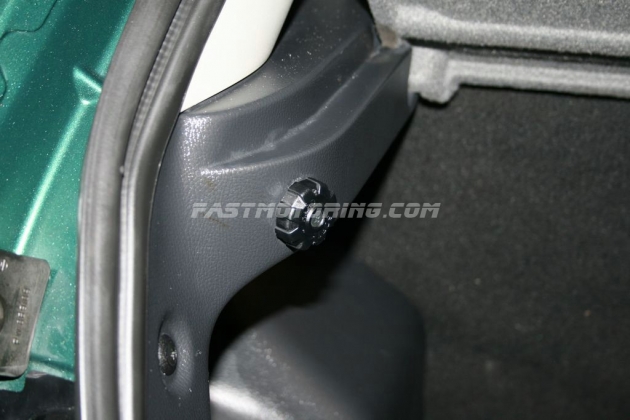 Pop-up the rear boot of the Satria Neo R3 Lotus Racing, and you will notice there's a knob on side each for the car. The function it's that to adjust the level of hardness of the rear suspension when it is needed.
However, I doubt that it requires such a serious braking system but it comes with a massive 4-pot AP Racing calliper and cross ventilated discs for the front brakes. For the rear brakes, it remained as standard 1-pot with solid discs. The Satria Neo R3 Lotus Racing is also equipped with ABS and EBD. The rims of the Satria Neo here is a set 16″ OEM from Advanti and claims as R3 Light Weight Alloy rims.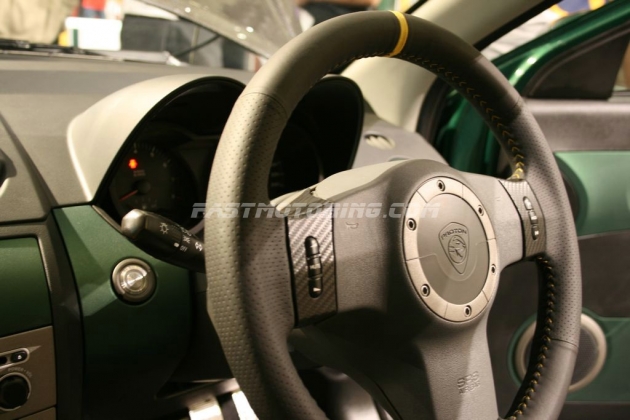 Aside from the performance upgrades, Proton has also done many upgrades on the cosmetic part. For example, a push-start button is installed along with the car but you will also need to insert your key to start the engine. The steering is wrapped with leather and with a yellow centered indicated.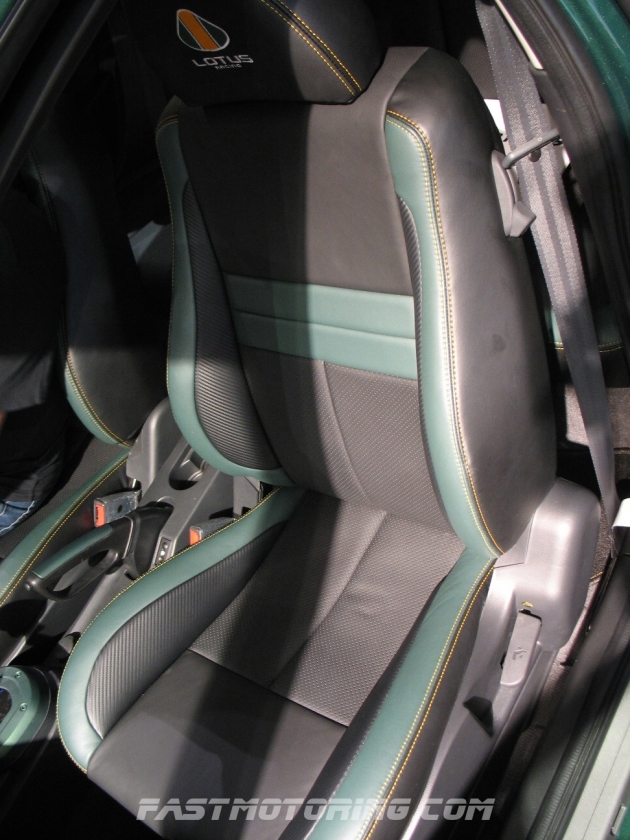 The seat of the Satria Neo R3 Lotus Racing edition is wrapped with Nappa Leather of course with styling inspired by Lotus and the Lotus Logo on the headrest. However as compared to the earlier version of  Satria Neo R3, this unit here doesn't have bucket seat. The seats are basically wrapped leather seats from the standard seats in any Satria Neo.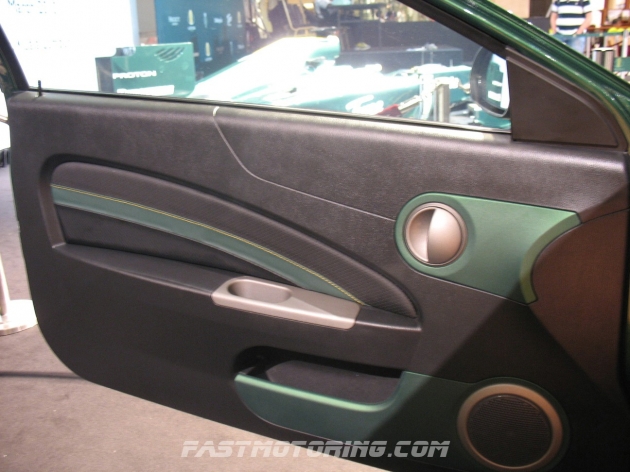 The door panel of this special edition Satria Neo it's also redesign to suit the car's theme.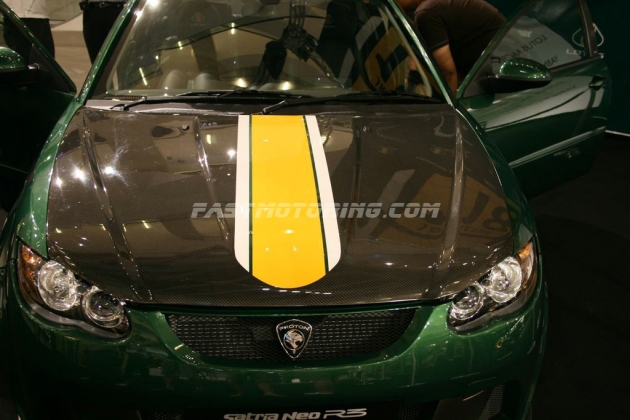 The Satria Neo R3 Lotus Racing car is fitted with few carbon fibre equipment to reduce weight and styling purposes. The bonnet here as the picture show is made with light-weight carbon fibre material.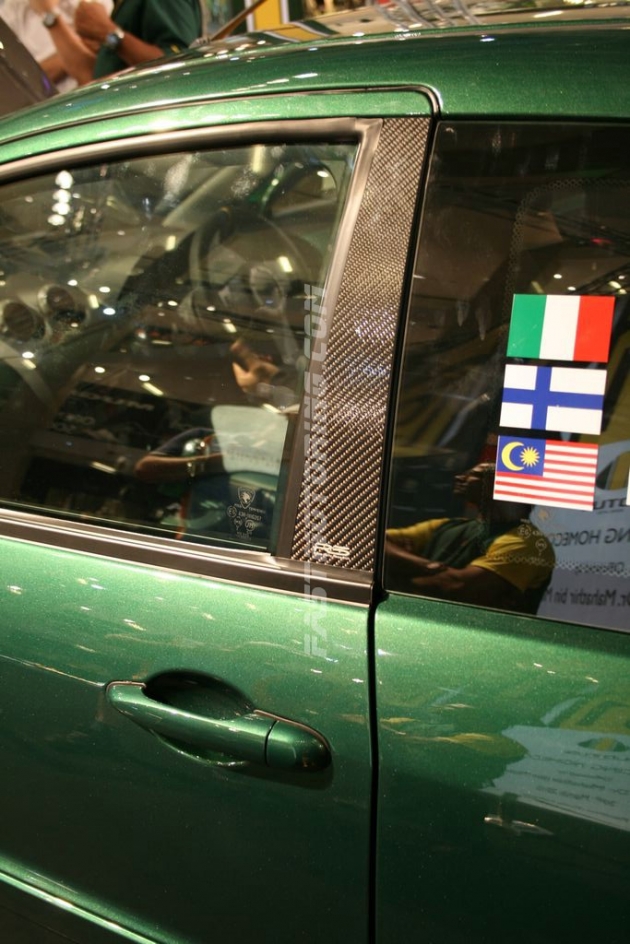 Asides, that the door still also fitted with carbon fibre material. We did a check on it whether it is carbon fibre or sticker, and yes it is real carbon fibre attach on the surface of the door frame.
All this while, the carbon fibre parts on the R3 are prone to theft. Many R3 owners resorted to removing these lightweight parts and replacing them with standard parts, refitting them only during track day or events.
Our sources say that 15 units are already booked for and remain 10 units up for sale as of 30 March 2010. One of the owner of this beautiful masterpiece belongs to the Proton Advisor, Tun Mahathir which he owned a collection of R3 in his garage.
Click here to download Brochure for the Proton Satria Neo R3 Lotus Racing Edition !