The much awaited Perodua first Energy Efficient Sedan (EEV), which is fully designed by Malaysians, with a strong support from Daihatsu Motor Company of Japan, will be open for booking at all over 181 showrooms across the country from 16th July.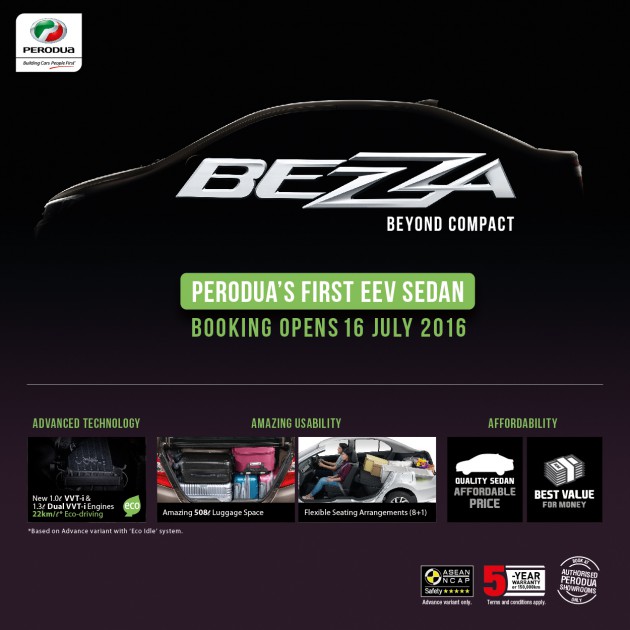 "The long wait is over as we will soon launch our very own sedan on 21st July 2016. This sedan is the culmination of decades of technology collaboration and technology transfer with our partner Daihatsu Motor Co. Ltd," Perodua President & CEO, Datuk (Dr) Aminar Rashid Salleh said.
"It is with their guidance that we are now able to stand on our own with this ground breaking new model and it is the sedan that fits every Malaysian needs," he said.
"This Perodua sedan, named Bezza, is our second transformation model (after the Axia) and our first global-ready car with the 1.3L Advance variant packed with advance safety features," Aminar said.
The Perodua Bezza is produced at its' EEV-certified plant, the Perodua Global Manufacturing Sdn Bhd, which is a highly modern facility with over 75% automation rate (the same plant which produces the Perodua Axia).
"The sedan name takes inspiration from the word 'Beza' in Bahasa Malaysia, which means 'different'. And that is exactly what Perodua's first EEV sedan is – distinctly different," Aminar said.
It breaks all conventions when it comes to what you expect from a compact sedan. The double 'Z' in the name, which somewhat resembles the number '22', also subtly alludes to the fact that Perodua has been in the market for 22 years.
The 'Beyond Compact' tagline also communicates that the Perodua Bezza goes beyond drivers' expectations of what a Malaysian sedan offers. The advanced technology, amazing usability and affordability, built upon Perodua's trademark of quality, reliability, value and care.
The sedan comes in 5 variants, the 1.0L Manual Transmission & Automatic Transmission; the 1.3L "Premium X" Manual & Automatic Transmission; and the 1.3L "Advanced Version" Automatic Transmission.
The Perodua Bezza 1.3L Advance variant comes equipped with a Vehicle Stability Control (VSC) which is a safety function that detect and reduce skidding hence allows the driver to maintain stability while driving.
This variant also comes with Brake Assist (BA) and Traction Control (TRC) which allows the driver to maintain traction on a slippery road. It also has the Hill Start Assist (HSA) that prevents the car from rolling back on slopes when the brakes is released, giving the driver time to switch to the accelerator pedal.
In addition to these safety features, the Perodua Bezza variants come equipped with ABS, EBD and also intermittent operated windshield wiper which changes speed in-line with the vehicle's acceleration (speed sensing wiper). This will further improve the car's safety features as it improves visibility when driving in the rain.
Following Perodua's signature design, the sedan is made with quality, comfort, spaciousness, reliability, affordability and looks in mind. The car is based on customer feedback and preference. The respondents were from both urban and rural areas nationwide.
"The result is that potential buyers were looking for a sedan which has global features but at the consumers' price," Aminar said.
"This sedan car has one of the biggest boot spaces in the market with 508 litres available in its class."
"It is also versatile enough with the foldable rear seats configuration (60:40) which result to 8 +1 seating configurations to allow for maximum flexibility to address a variety of situations for the customer. It does not compromise the interior which has plenty of leg room for a compact sedan," he said.
The Perodua EEV sedan is a first of its kind for the compact car company as the car comes in a new 1.0 litre 1KR-VE engine with VVT-i and a 1.3 litre 1NR-VE engine with Dual VVT-i. The manual transmission has 5 speeds while the electronic automatic transmission (E-AT) has 4 speeds.
The Perodua Bezza 1.0 litre engine may reach up to 22.8km per litre for its manual transmission, while the automatic transmission can potentially travel 21.3 kilometres per litre with eco driving.
"This feature is part of the model's fuel saving technology adapted to Malaysian weather – another first for Perodua and a first for a national carmaker," Aminar said.
Meanwhile, the eco driving 1.3 litre's manual transmission variant can potentially travel 21.7 kilometres per litre, while the automatic transmission can travel 22 kilometres per litre with 'Eco Idle' System which available in the Advance variant only. The full tank can potentially travel up to 792km driving.
The 'Eco Idle' system will automatically stops the engine when the car is idle and restarts upon release of the brake, thereby reducing fuel consumption and emissions. Drivers can deactivate this feature if they wish.
"The Perodua Bezza improvements to the exterior design also result in the best drag coefficient (CD) in Perodua history," Aminar said.
Another first for Perodua is the push start/stop button and smart entry with smart key which available in the 1.3L variants only.
On the multimedia paraphilia, the Perodua Bezza 1.3L Advance variant is equipped with a multimedia-mobile link device where a user can access social media and entertainment features of their Android gadget when the vehicle is static.
Users can also interface navigation applications such as Waze and Google Maps through this "Smart Link" feature.
On top of these features, back passengers can also charge their devices at a USB port located at the rear centre console.
"We believe that convergence between mobile technology and the car is inevitable. With that in mind we want our customers to use this technology as safe as possible when travelling," Aminar said.
The Perodua Bezza variants is packed with amazing features such as shark fin antenna, remote boot release, one-touch power window with jam protection, front & front corner sensors, reverse camera, reserve sensors and many more.
"With features available in luxury vehicles incorporated into the Perodua Bezza plus its attractive design, smooth ride, quality at affordable pricing, increasing our export footprint will become a reality," Aminar said.
The car comes in 6 different colours, which include Sugar Brown and Ocean Blue for 1.3L variants, which are new metallic colours for Perodua, as well as existing colours of Lava Red, Ebony Black, Glittering Silver & Solid Ivory White. Perodua uses eco-friendly water based paint which also provides a better finish.