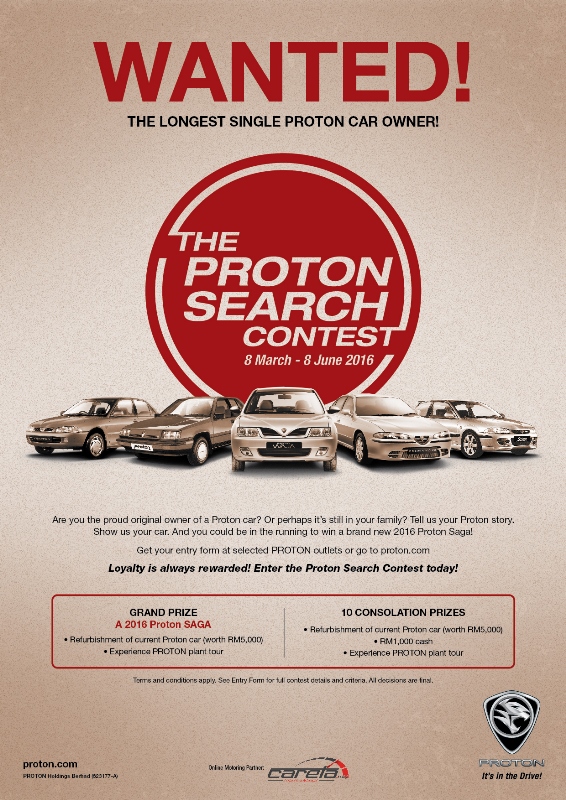 Most people have a bond with their car. Some name them, some speaks to them, and some even are fixated over them. But with every car there is that memory or touching story. Understanding the attachment one has with their car, PROTON Holdings Bhd announces 'The PROTON Search', a 13-week contest, to look for the loyal Proton car owner in Malaysia.
Kicking off from 8 March to 8 June 2016, "The PROTON Search" calls out for customers with the longest owned and running Proton car in Malaysia, to share their love stories with the car. The winning criteria would be a Proton car that is in an immaculate condition with highest mileage.
The contest is open to all Malaysians with a valid identification card and driving license. The Proton car must have a valid road tax and insurance renewed annually since ownership. The Proton car ownership is non-commercial, which means it is not a Taxi and must either be from a single owner, and/or has been used and kept within the family since it was purchased. The Proton car must be roadworthy, well maintained and looks in its original state.
The contest is part of the recently launched 'The New PROTON' campaign to provide better value and experience to Proton owners by developing activities and engagement sessions for the existing customers. With 'The New PROTON', the Company's relationship with customers takes priority.
"Since our inception, we have sold over 4 million Proton cars, and this search is our way of rewarding Proton loyal customers and bringing them closer to us. We must take care of these customers, who have chosen to purchase our cars and are proud of driving us," said Dato' Abdul Harith Abdullah, Chief Executive of PROTON.
To participate, entrants are to submit the entry form, a short written story of the car which includes a memorable photo of the car or a creative submission of a 60-second video. The form can be obtained from selected PROTON outlets or downloaded from the website at www.proton.com. A photocopy of the form is also accepted.
"Eleven winners will be selected from this search, with the Grand Prize being the soon to be launched Proton Saga. The ten consolation winners will be awarded with a refurbishment of their current Proton car worth
RM5,000 and RM1,000 cash. Finally, all winners will also be taken through an experience at the PROTON plant," added Dato' Harith.