Scion a sub brand of Toyota for the United States of America will present it last new model at the New York Auto Show 2016, next week. Toyota will consolidate Scion back to one brand name – Toyota. The latest and last Scion is called TC Release SEries 10.0. It is developed with tuner Kei Miura. The vehicle is paint with Barcelona red and fitted with Kei Miura designed body kit that comes with front lip spoiler, rocker panels, rear lower spoiler and deck spoiler. To finish the whole package, the Tc Series 10 is finish with new allow wheel in gloss black and the RS 10 blac Scion badges.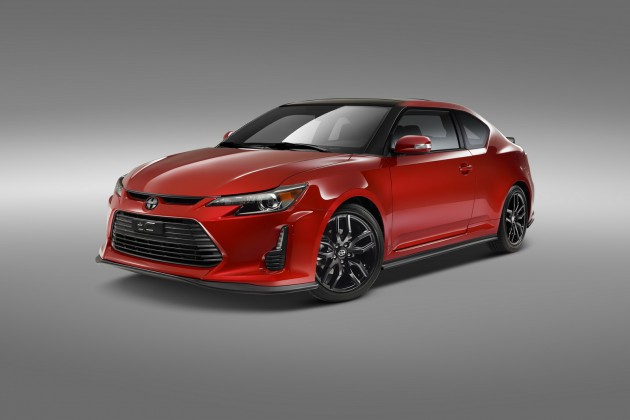 To complete the performance part, Scion fitted the last TC of its brand with  TRD performance lowering springs for better handling performance & better steering response. Dual exhaust is fitted with more resonant and deeper note.
The interior is following the black and red theme , where the manufacturer added red contrast stitching on the seat inserts, parking brake lever, steering wheel and shift boot, joined by exclusive Release Series carpeted floor and cargo mats, red seatbelts and a unique numbered badge. As there will be only 1200 units planned to be build. The Scion RS 10.0 tC Coupes are priced at USD23,190 , for the 6-speed manual, and at USD24,340 for the 6-speed sequential automatic model.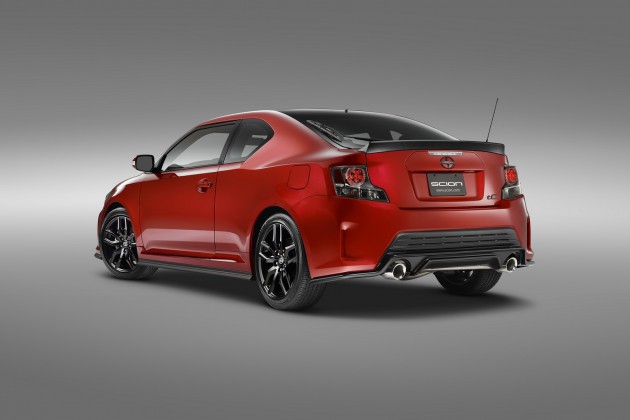 Only 1,200 RS 10.0 tC Coupes are planned, priced at $23,190 (plus a $795 delivery and handling fee), for the 6-speed manual, and at $24,340 for the 6-speed sequential automatic model.
"We have a lot of fans that are sorry to see Scion being transitioned to Toyota," said Gilleland. "But it's the right thing to do, and we know the spirit of Scion will live on, so we are going out in style", said Andrew Gilleland, Scion's Vice President.
Bad news for the Scion fans but for those that never had a chance to own a Scion, we look forward for Toyota to spread the Scion spirit to the world.