UMW Toyotsu Motors officially opened its new full-fledged 3S centre in Rawang to provide better facilities for the increasing number of Toyota customers in the Northern part of Selangor, Rawang, and its nearby areas.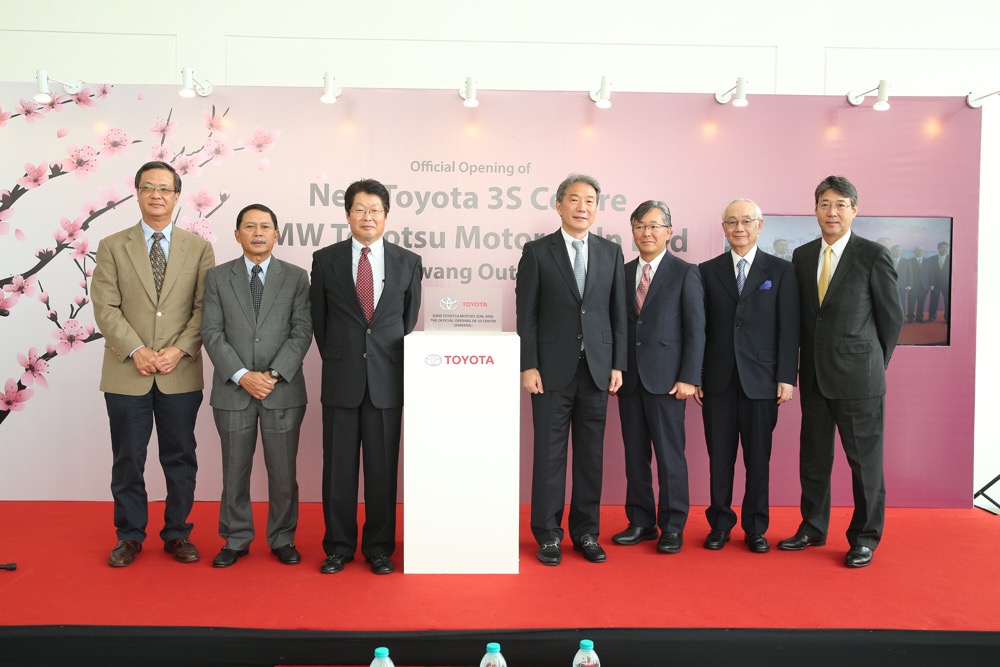 The opening comes on the heels of UMW Toyotsu Motors' 10th Anniversary and further reaffirms its commitment to providing quality and comprehensive services to its loyal customers, while cementing its position as one of Toyota's best performing dealers in Malaysia. The new 3S centre boasts full-fledged facilities that consist of sales, service, spare parts as well as body and paint services under one roof; providing ease and utmost convenience to Toyota's discerning clientele. UMW Toyotsu Motors has invested RM34 million on a 2.5-acre of land with a built-up area covering approximately 71,000 square feet.
The 3S centre's spacious showroom can display up to five Toyota vehicles at any one time, while the service team can accommodate up to 75 vehicles daily. Customers are also treated to a comfortable waiting lounge with complimentary Wifi internet facilities.
Present during the opening ceremony were Mr. Takashi Hattori, Senior Managing Director, Chief Division Officer, Automotive Division Toyota Tsusho Corporation Japan; Mr. Hitoshi Kitagawa, Managing Director, Toyota Tsusho Malaysia; Mr. Akio Takeyama, Deputy Chairman, UMW Toyota Motor; YBhg. Datuk Ismet Suki, President, UMW Toyota Motor; Mr. Chew Chee Loon, Board Member of UMW Toyotsu Motors and Mr. Norio Yanai, Managing Director, UMW Toyotsu Motors.
Mr. Akio Takeyama, Deputy Chairman, UMW Toyota Motor said " Toyota Tsusho is part of Toyota Group of companies back in Japan where we work very closely on sales, production and logistics operation globally. With Toyota Tsusho's vast familiarity in sales and export operations in more than 175 countries, they will certainly contribute towards the development of automotive industry in Malaysia."
YBhg. Datuk Ismet Suki, President, UMW Toyota Motor, said, "We at UMW Toyota take great pride in providing the best Toyota experience at every customers' touch points in their purchase life cycle from the point of purchase, after sales service right through their next repurchase. And with the continued expansion of our 3S network nationwide, we hope to bring our outlet closer to our customers."
He added: "In 2005, we made a bold decision to expand our network by engaging more dealerships to be our business partners in light of our increasing sales volume and our commitment in providing the best customer satisfaction in town. Given UMW Toyotsu's success and excellent track record, we cannot be more proud to be partnering with them for the past 10 years."
UMW Toyota Motor currently has an extensive network of 97 sales and after sales outlets and dealerships nationwide.