The new Ford Ranger's impressive power makes it one of the most capable trucks in its class, but rugged capability does not have to come at the expense of fuel efficiency. The Ranger is available with a selection of globally proven engines that provide you with a winning combination of power and efficiency in all conditions.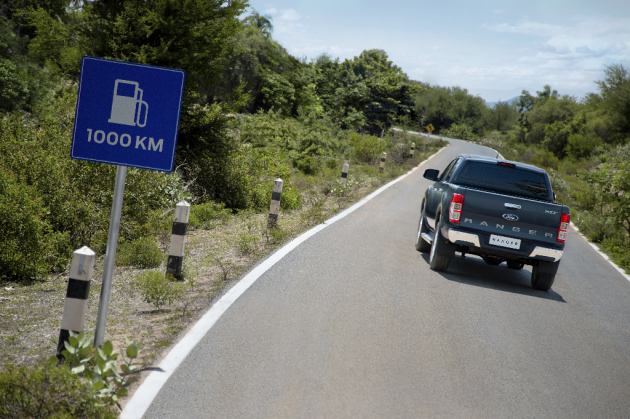 For maximum power and torque for heavy-duty towing, Ford is offering the latest generation of its globally proven 3.2-liter Duratorq five-cylinder TDCi diesel engine. Upgrades to the engine include an updated exhaust gas recirculation system help to improve fuel efficiency, while still putting out 147 kW of power and 470 Nm of torque.
When equipped with the latest generation of Ford's 2.2-liter Duratorq four-cylinder TDCi diesel engine, the Ranger delivers significantly improved fuel efficiency and refinement while also providing the power that you demand from your truck. Depending on the market, Ford will offer a standard 2.2-liter engine, which generates an improved 118 kW of power and 385 Nm of torque, or a high-efficiency (96 kW) variant for significant improvement in fuel economy.
The new Ranger is also available with Ford's dependable 2.5-liter Duratec petrol engine, providing 122 kW of power and 225 Nm of torque.
In order to maximize the efficiency of its engines, the new Ford Ranger is available with Automatic Start/Stop Technology, which saves fuel by shutting off the engine when the vehicle is idling, such as at a stop light. This improves fuel economy by up to 3.5 percent, which means fewer stops for refuelling.
The Ranger increases efficiency even further and enhances the driving experience with the addition of an electric power-assisted steering (EPAS) system, which provides precise steering with a natural and confident feel. With EPAS, steering is light and manageable for low-speed manoeuvring, such as parking, and firm and more precise at higher speeds. By eliminating the power steering pump used in a traditional power-steering system, EPAS also results in a quieter driving experience and improves fuel efficiency by about three percent.
The Ranger brings you a new level of efficiency and refinement, without sacrificing the rugged capability that you demand.