Asia Formula Renault ('AFR') Rounds 3&4 took place this weekend at the famous Sepang International F1 Circuit under excellent weather conditions, at what is considered to be one of the top circuits in Asia. With its series of high speed corner combinations and elevation changes, Sepang F1 Circuit is a highly technical challenge for drivers.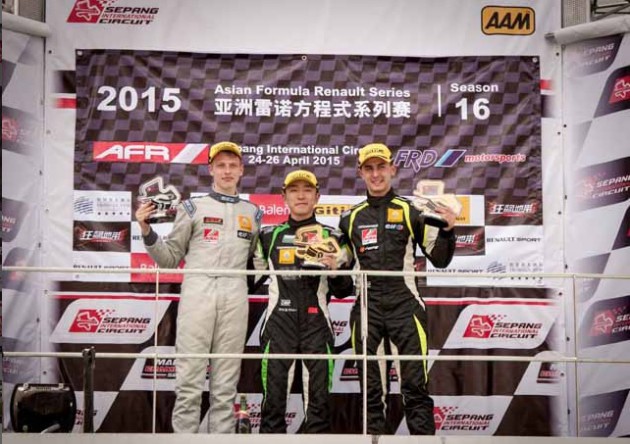 PS Racing's AFR line up for Sepang consisted of Sebastien Mailleux of France and Thomas Swift of Hong Kong. In Saturday morning's qualifying, Mailleux gave one of his best performances to date by taking P2 from the start of qualifying and holding it until the end to continue a stellar weekend – in Friday's Official Practice 2, incredibly enough Mailleux set the 2nd fastest laptime while driving with a bent wishbone caused by contact with the wall. Elsewhere in Qualifying, Mailleux's PSR teammate Thomas Swift unfortunately had a technical issue on lap three and placed 4th in the B class, two positions down from Mailleux.
Race One (Round Three) of the 2015 AFR season took place Saturday afternoon under good weather conditions despite the threat of thunderstorms. Once again, Sebastien Mailleux gave a fantastic performance despite starting in the last position on the grid, after being delayed leaving his grid box for the formation lap. On the start, Mailleux immediately rocketed by several cars on the start to move up behind teammate Thomas Swift in P2. On the next lap Mailleux was able to move up to 2nd place with Swift following a strong 3rd, until Swift spun and dropped to 4th. Mailleux stayed in 2nd until with just a few laps remaining, a mistake allowed 3rd place driver James Runacres to get by. Despite being almost a second faster and quickly closing the gap to Runacres, there was not enough time for Mailleux to regain 2nd. Mailleux took a fine 3rd on the podium and fastest race lap for the B Series Formula Renault, with Swift 4th in class just off the podium.
However, Sunday's Race Two (Round Four) brought redemption for PSR's Thomas Swift with a fantastic performance: Swift got off to a fast start and passed several cars to immediately move up to P2 in the B Series Formula Renault at the start before being pushed wide by another car going into T2, which allowed Swift's young rival James Runacres managed to pass. Swift immediately chased down Runacres but unfortunately couldn't make the repass to retake P2 by the checkered flag and took 3rd on the podium. Swift's PSR teammate Sebastien Mailleux of France seemed destined for another trophy from the outset of the race, but spun while catching up to the B Series frontrunners – though he showed his talent once again by setting the 2nd fastest lap for the B Series cars in the process.
Asia Formula Renault Rounds 7&8 will be held at the incredible Pan Delta Race Festival on June 19-21 at the Zhuhai International Circuit. With an average attendance of over 30,000 fans and live TV for all races, the Pan Delta circus the largest race event in Asia outside of Formula One. Be sure to follow the progress of PS Racing's international driver line up and season updates on www.psracing.com or on facebook at www.facebook.com/psracingchampions.