Likely due to cars are expensive in Malaysia, customers are expecting better service when they take their vehicles in for service or repairs, and authorized service centers are not meeting those expectations, according to the J.D. Power Asia Pacific 2014 Malaysia Customer Service Index (CSI) StudySM released.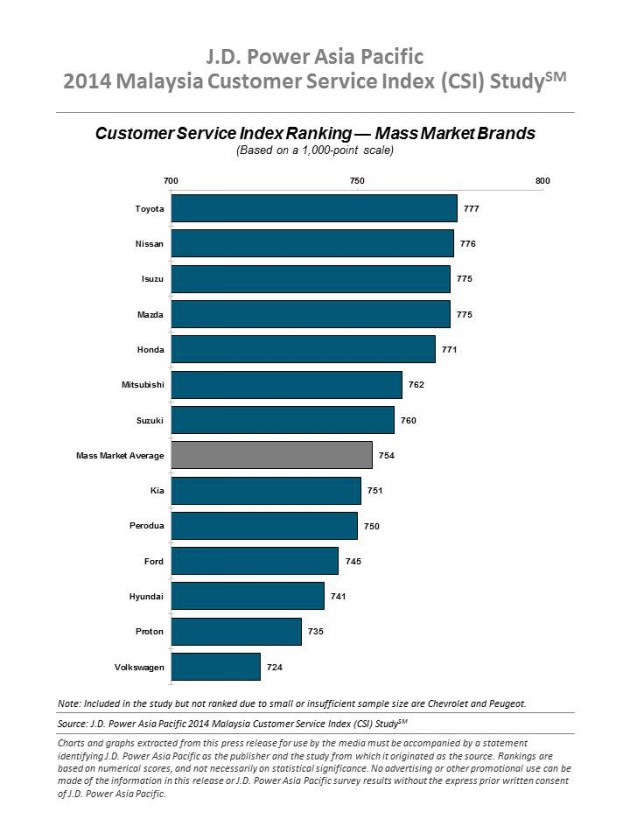 The study, now in its 12th year, measures overall service satisfaction among owners who took their vehicle to an authorized service center for service maintenance and/ or repair work during the first 12 to 24 months of ownership. For the first time, the 2014 study examines service satisfaction exclusively on the mass market segment.
Toyota ranks highest in overall customer service satisfaction among mass market brands, with a score of 777. Toyota performs particularly well in the service facility factor. Nissan ranks second with a score of 776, while Isuzu and Mazda rank third in a tie at 775 each.
The study evaluates new-vehicle owner satisfaction with the service experience by examining dealership performance in five factors: service quality (38%); vehicle pick-up (20%); service initiation (14%); service advisor (14%); and service facility (14%). Satisfaction among mass market brands averages 754 index points (on a 1,000-point scale) in 2014, which is a 3-point decline from 2013.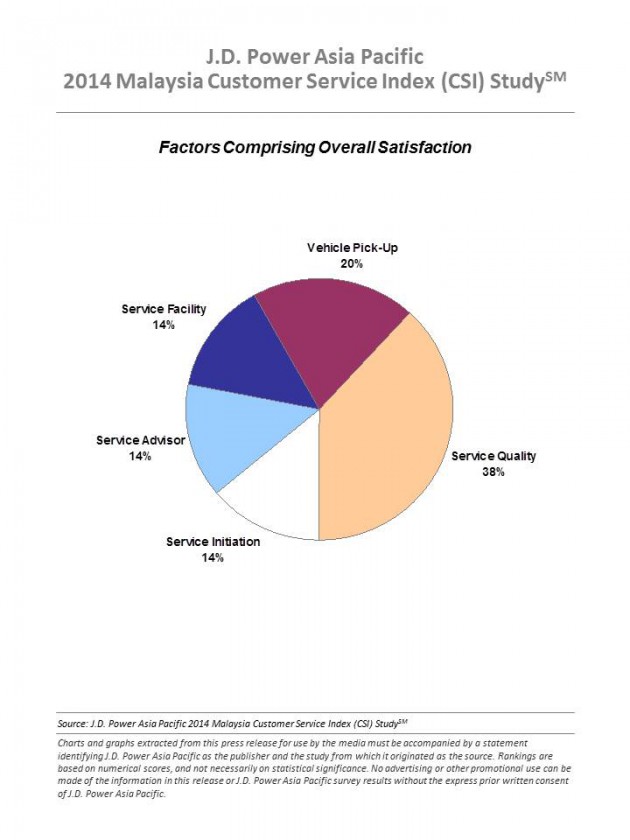 The study identifies 22 service standards that enhance the overall customer service experience. In 2014, customers expect a minimum of 19 of those 22 standards to be met in order to have a positive service experience. In comparison, customer expectations in 2013 were for service centers to meet 17 of the 22 service standards. On average, authorized service centers are implementing 18.1 standards per service visit in 2014.
"Customers have higher expectations, so it's vital that the automakers' service centers strive to not only meet, but also to exceed those expectations to deliver a satisfying experience for their customers," said Rajaswaran Tharmalingam, country head, Malaysia, J.D. Power Asia Pacific. "Brands need to focus on the entire service process—from helping customers secure service appointments, to providing top-quality services, to faster service turnaround times, to having friendly and knowledgeable service advisors—all of which contribute to overall customer satisfaction."
The study also finds there are additional services some service centers provide that also improve customer satisfaction, such as washing and vacuuming vehicles at the completion of the service and making follow-up phone calls to customers after service is performed. Currently, only 14 percent of mass market customers indicate their service center delivered on both of these services, among whom satisfaction is 797, compared with 729 among customers whose service center did not deliver on both those standards.