The winner of Volvo Trucks Malaysia's Fuelwatch Challenge 2013, Zamri bin Abd Rahman of Konsortium Logistic Bhd, Shah Alam, represented Malaysia at the Volvo Trucks Asia Pacific Fuelwatch Championship 2013 that was held near Brisbane, Australia, on 22 and 23 October recently.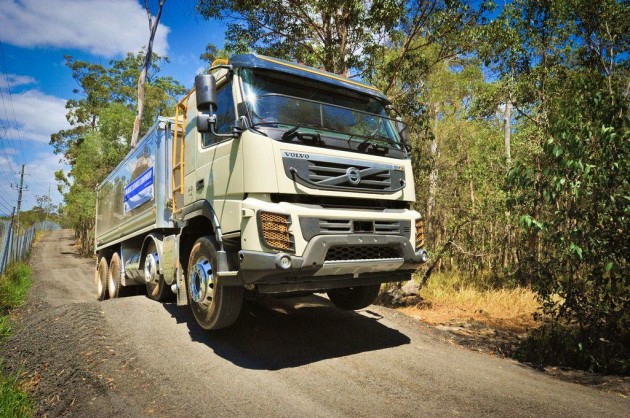 In July, Zamri bin Abd Rahman defeated close to 500 other Malaysian truckers to clinch the national top spot when he achieved the lowest fuel consumption recording of just 1 litre for 4.07 kilometres in a 40-kilometre drive challenge.
"I have never thought that I would be representing Malaysia in an international driving challenge like this prior to taking part in the Volvo Trucks Malaysia Fuelwatch Challenge 2013. It was very exciting and the experience has taught me many useful fuel saving tips," said Zamri bin Abd Rahman.
He added, "I would like to thank Volvo Trucks and my employer Konsortium Logistic Bhd for giving me this once-in-a-lifetime opportunity. I look forward to applying the knowledge about safety and fuel saving driving techniques which I have learned into my daily job.  It was also interesting to be able to meet the winners from other countries and to exchange tips."
A total of 13 drivers had been invited by Volvo Trucks Asia Oceania to the Mount Cotton Training Centre, a 30 minutes drive away from Brisbane. Prior to this international final, the contestants had qualified through winning the national Fuelwatch competitions in their respective countries. As a result truck drivers from Korea, China, Taiwan, Thailand, Malaysia, Singapore, Indonesia, Sri Lanka, Australia and New Zealand were present. Whereas for Sri Lanka and New Zealand it was the first time ever participating in Fuelwatch, Korea, Singapore and Indonesia had come with two drivers each, as their countries also competed in the connected off-road competition.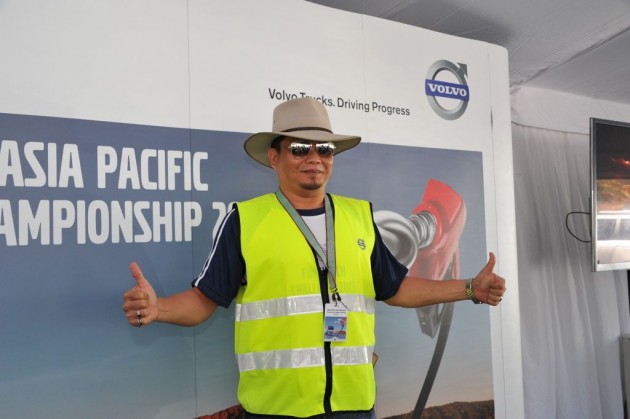 On the first day of the event, Volvo Trucks conducted a training session in order to prepare the drivers for the following competition day. However, it was not so much about imparting new knowledge, but rather about refreshing what every Volvo Trucks driver learns in the training that is part of the hand-over, when purchasing a Volvo truck.
Mats Nilsson, Managing Director of Volvo Group Malaysia commented, "Fuelwatch demonstrates Volvo Trucks' continuous effort in raising awareness and imparting skills on fuel efficiency and sustainable driving behaviour on the road"
"We offer more than just trucks although that is naturally the heart of our business. The best trucks deserve the best drivers. That's why we invest vast efforts into driver development, providing training in order to get the most out of the truck: maximum efficiency at maximum safety. That way we can create real value for our customers." added Mats.
And indeed, the next day should see a competition on a very high level. Having come out on top in the prior national competitions, every single contestant naturally wanted to reach for the ultimate and return to his homecountry as freshly awarded Asia Pacific Fuelwatch champion. However, as with every competition, only one can win.
In the end it was Australia's Grant Morice who showed the strongest nerves, delivering the most fuel efficient rounds on the 5.8 km long on-road course, driving the New Volvo FH16 6×4 with a gross combination weight of 40 tons. And at the off-road site, on a 4.2 km long circuit over rough terrain, it was Youngki Park from Korea who managed to save the most fuel with the competition truck: a Volvo FMX 8X4 (gross vehicle weight: 21 tons).
Grant Morice and Youngki Park will be able to get an even earlier opportunity for a first-hand impression of the homecountry of Volvo Trucks. Their prize for winning the on- respectively off-road competition of the Fuelwatch Asia Pacific Championship 2013 is a trip to Sweden.
If looking at the different levels of fuel consumption, measured during the on-road final among the 10 contestants, it gets clear what difference a driver can make when it comes to a truck's total operating costs: Compared to the last-placed driver, the first-ranked Grant Morice achieved an impressive 34 percent less in fuel consumption, which illustrates the cost saving potentials – purely through the driver's performance.
"We know how important fuel efficiency is to our customers' business", stated Christophe Martin, President of Volvo Group Trucks in Asia Oceania. "With Fuelwatch we address this need, and show how the right driving habits can dramatically lower the fuel consumption of a truck, and hence save costs. Therefore Fuelwatch is not just a competition, but rather a competence development effort. It benefits the drivers by improving their skills, it benefits our customers by contributing to their bottom line, and it also benefits the environment by decreasing the carbon footprint. That's why with Fuelwatch everyone is a winner!"