Honda Cars India Ltd unveiled the all-new 4th Generation Honda City at a World Premiere event in India. The world's first preview of the car also marked the introduction of 1.5L i-DTEC diesel engine in the all-new City, which scheduled to be launched in January 2014, the pre-launch bookings of the model have begun in India.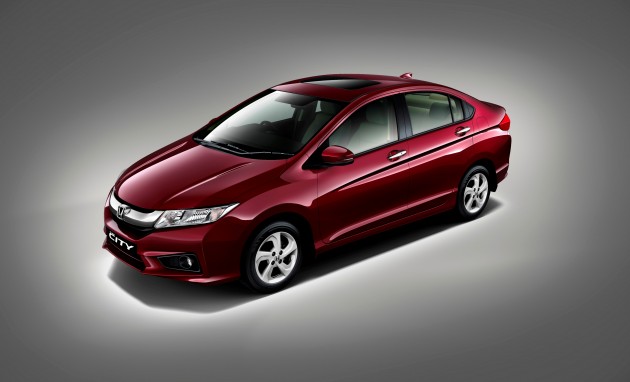 The all-new Honda City has been developed at Honda R&D centre located in Tochigi, Japan following extensive market surveys in India, ASEAN countries and other markets for people's driving needs and lifestyles. The development of all-new Honda City adopts Honda's new 'global operation reform' of concurrent development and implementation of locally optimized design drawings to realize the best vehicle specifications with speed, affordability and low CO2 emissions for our customers. 
India, being a key strategic market for Honda in the Asia and Oceania region, has been specifically chosen to lead the global production for the All New Honda City with the 1.5L i-DTEC diesel engine, which is already gaining popularity in the country. This makes India the first country to manufacture and sell the All New City, which will eventually be sold in 60 markets to help expand Honda's footprint in some of the fastest growing auto markets in the world. 
The packaging of the All New City delivers cleverly generated interior space that exceeds its class by further evolving Honda's "man maximum machine minimum" concept which aims at maximizing the space available for people and minimizing the space required for mechanical components. While maintaining compact dimensions and realizing longer wheelbase, efficient use of space has been made for both driver and occupants to create a spacious interior cabin with widest front seat space and rear seat space beyond its class. The All New City measures 4440 mm in length (same as its predecessor), 1695 mm in width (same as outgoing model), 1495 mm in height (10 mm more than the outgoing model) and 2600 mm as the wheelbase (extended by an additional 50 mm over outgoing model).
Speaking at the occasion of its global unveiling, Mr. Yoshiyuki Matsumoto, Managing Officer, Honda Motor Company and Representative of Development, Purchasing and Production in Asia & Oceania Region said, "Honda City is currently sold in 55 countries across the world. City is the leading brand of Honda in Asia and Oceania region and with the 4th generation Honda City, we aim to raise its popularity further and make it a significant future model in Honda's global portfolio which will be available in many more countries."
The All New City adopts the best of Honda's powertrains to achieve best fuel efficiency performance. The Diesel variant of the City will be powered by the 1.5L 4 cylinder DOHC i-DTEC diesel engine. This engine has been developed exclusively for India considering Indian driving conditions and is based on the Honda's latest 'Earth Dreams Technology' realizing both excellent driving performance and offering matchless fuel economy. The Petrol variant of the City will be powered by an improved 1.5L 4 cylinder SOHC i-VTEC petrol engine designed to offer the best balance of engine performance and fuel economy.