Yesterday, Volvo Car Malaysia has officially appointed Clear Marque Sdn Bhd as its newest authorised dealer at an agreement signing ceremony in Kuala Lumpur.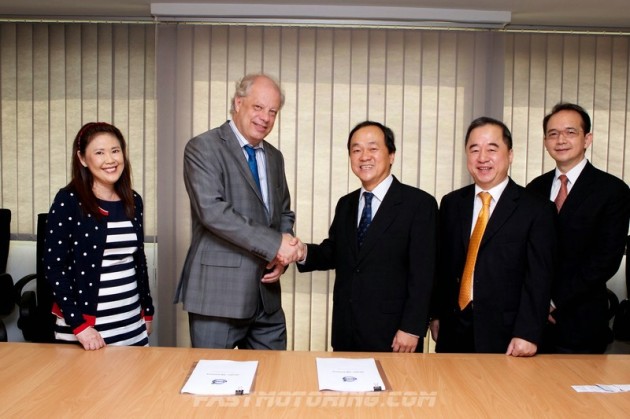 Clear Marque, headed by Dato' Tan Hoe Pin, Executive Director of Wawasan TKH, will begin operations as early as mid-November with a dealership on Jalan Kuching that will initially concentrate on servicing, with a full sales centre to follow on the same site. A second dealership is expected to open in Kota Damansara by the start of 2014.
"Dato' Tan Hoe Pin has a distinguished reputation in the automotive industry. We have every faith that Clear Marque will be an asset to our operations in Malaysia, as Volvo Car Malaysia and Clear Marque share the common vision of offering better service to Malaysian customers," said Goran Larsson, President of Volvo Car Malaysia.
"This partnership is the first step in our expansion programme to better serve Volvo customers.  Our customer-oriented sales and service focus is part of our philosophy to show Malaysians that Volvo is very much "Designed around You", from our car design and performance, to the quality of service that we provide." explained Larsson.
With the Jalan Kuching site being the lead service centre coming into operation in November, Clear Marque's focus will be on providing a premium experience for staff and customers alike.
"Opening our service centre initially gives Clear Marque the perfect foundation on which to demonstrate our commitment to Volvo and build our reputation." said Dato' Tan Hoe Pin.
"This platform will provide our sales showrooms with an established consumer base from which to grow and we intend to increase customer satisfaction through our enhanced service program with pioneering features such as 'One-hour-stop' service concept."