Nissan Navara is chosen and endorsed as the official car for the Rainforest Challenge 2012. This world renowned 4x 4 off-road event will be held from December 1 -10, 2012 in Malacca, Malaysia.
The Rainforest Challenge which celebrates its 15th year anniversary, is a home-grown prestigious event that has received various international recognitions as the world's most internationally represented 4×4 event. More than 350 participants are expected to be at the event from over 30 countries.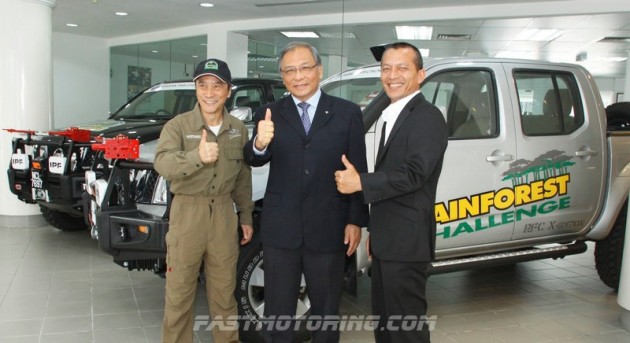 Dato' Dr. Ang Bon Beng, Executive Director of Edaran Tan Chong Motor said that ETCM is honoured to be chosen to support this international event as this would boost Nissan Navara as the Mother of all trucks and also to assist in the ever-growing Rainforest Challenge.
"I am delighted with the huge role that ETCM has in the Rainforest Challenge 2012 as this would be a great platform to showcase the raw power of this "Mother Trucker" in these challenging trails."
"This event is perfect to put this truck to the test and I believe the Nissan Navara will definitely out-run these trails with its rugged body structure and mighty engine."
This event format has also expanded globally, from Europe to Asia a global series is also in the plans.
Luis J.A. Wee, Founder and Event Director of Rainforest Challenge said this event with the collaboration of ETCM is aimed to support the government in promoting the tourism industry.
"I chose Nissan Navara as the official car of this event due to the respect and confidence I have in this vehicle. With maximum torque of 403Nm/2000rpm and Electronically Controlled 4WD System, I believe the Navara will have no problems with the challenging trails in our challenge in Malaysia. I am optimistic that this event in Pantai Klebang, Malacca would break our personal record for the largest 4×4 gathering in Malaysia."
This event will showcase Navara's reputation as the "Mother Trucker". It will have to sustain the entire grueling challenge.