With the introduction of the new Lexus CT200h last year in Malaysia, this segment got a new entrant which was the first full hybrid model in its class. As the entry model in the Lexus range locally, the CT 200h is introducing the Lexus's unique synthesis of quality, sophistication and high technology.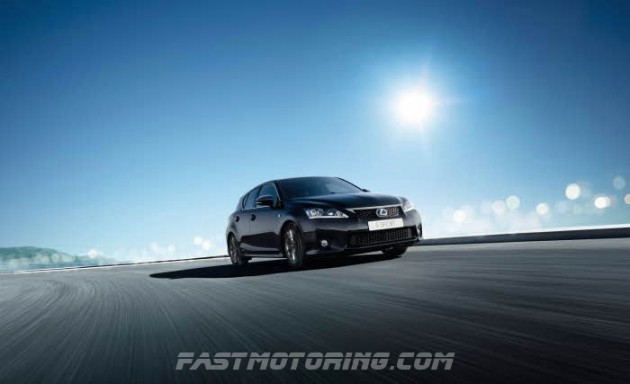 Today, the CT200h gets a new variant in the form of the CT200h F SPORT in the Malaysian market. The F SPORT variants are more distinctive and sporty looking with styling enhancements from the F SPORT package line specially developed for each model.
The new CT200h F SPORT shares the features of the CT200h Luxury but has different bumper styling at the front and rear. The 16-inch lightweight alloy rims, comes with a dark metallic for the sporty variant. The exterior colour still comes in 5 different colour ranges with the Luxury grade having an exclusive colour which is the Fire Agate Mica Metallic.
Inside the CT200h F SPORT, an exclusive black colour theme is used to complement the sporty image of this variant. The layout and features are also similar to that found in the CT200h Luxury but more silver trim is used to provide a technical ambience. The CT200h SPORT's steering wheel also offers a F SPORT perforated leather wrapping around it.
The CT200h F SPORT also has the unique front and rear lateral performance damping system which is fitted to the CT200h Luxury. Besides improving ride comfort, the system also gives the driver a more linear steering feel. The Lexus CT200h F SPORT retail price at RM 201,400.00 without insurance in Peninsular Malaysia. 
Besides the addition of the F SPORT variant, at the same time the CT200h Luxury and CT200 standard have also received some upgrades which add value to the radical and fun compact hybrid. Technically, there are no changes in the size, packaging, full hybrid technology and ultra-low emissions which have proven appealing to the environmentally-conscientious driver who also wants refinement and driving pleasure.
Summary Of Upgrades
– Power folding mirrors now fitted to CT200h
– 4-way power adjustment for driver"s seat in CT200h Luxury/F SPORT
– Pushbutton pre-set for 3 personalized driver"s seat positions in CT200h Luxury/F SPORT 
– Bluetooth functionality now linked to audio system for CT200h
– GPS navigation system (hard disk-based) with EMV available on CT200h Luxury/F SPORT
– DVD player with Lexus Premium 10-speaker Audio System for CT200h Luxury/F SPORT
Price List for Peninsular Malaysia
CT 200h F SPORT YMC'12 Price List (PM)
CT 200h YMC'12 Price List (PM)