Audi extends its model series with RS 5 Cabriolet. The car is powered by a high-revving naturally aspirated 4.2-litre V8 FSI engine with 331 kW (450 hp) mated with 7 speed S tronic transmission. It takes 0-100 km/h in 4.9 seconds. The 4-seat convertible with a cloth soft top entices with a unique combination of elegance and power.  The Audi RS 5 Cabriolet begins deliveries in early 2013 in Germany. The base price in the home market will be 88,500 euros.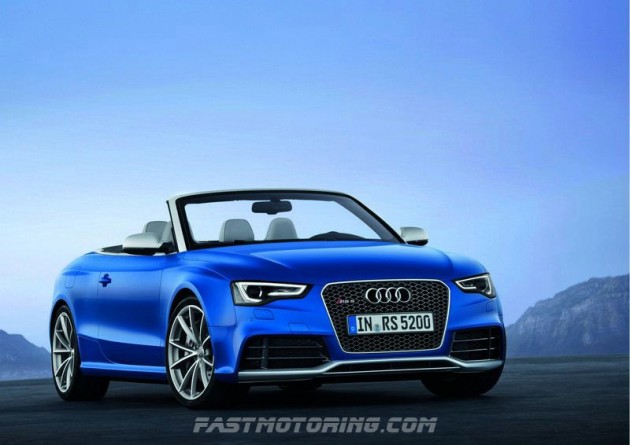 In the RS 5 Cabriolet, Audi dynamics takes on an especially beautiful form in the car's flowing side profile with perfectly balanced proportions and sharp details. A frame in matt aluminium look surrounds the hexagonal single-frame grille; its honeycomb grille insert that sports an RS 5 logo. Wedge-shaped headlights with wave-like lower edges illuminate with xenon plus lamps and LED strips that form the daytime running lights. Large air intakes are embedded in the distinctively shaped front apron whose ends run out into splitter edges.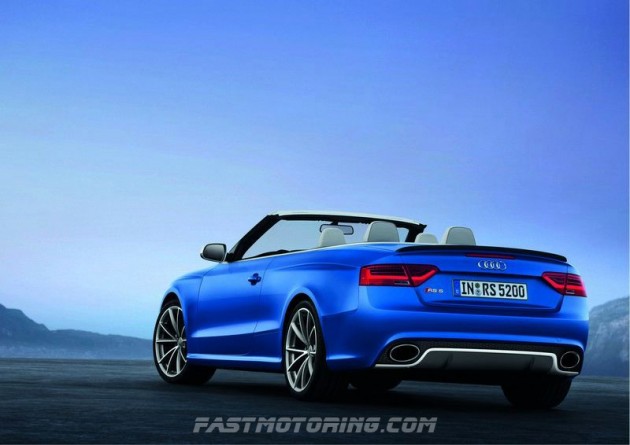 The lightweight textile roof of the RS 5 Cabriolet spans over the generously proportioned interior space like a low curved dome. At the press of a button, the soft top opens and closes fully automatically in 15 seconds and 17 seconds respectively – even when driving at speeds of up to 50 km/h. Moreover, the entire cabriolet system hardly affects the size of the spacious luggage compartment. It only requires 60 litres of its 380 litres total volume. The split rear seatbacks can be folded over individually, and a load-through hatch from the boot space to the rear seating area improves variability.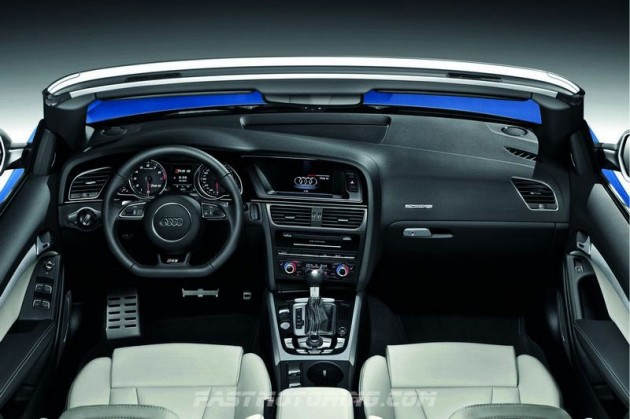 The Audi RS 5 Cabriolet measures 4,649mm long, 1,860mm wide and 1,380mm high, and its wheelbase is 2,751 mm. Eight exterior colours are available – a monochrome colour, four metallic and pearl effect colours and three crystal effect paints. The soft top is available in black, gray, red or brown. As options, Audi can install a styling package in matt aluminium as well as an engine compartment design package that uses carbon fibre-reinforced polymer (CFRP) materials. The car's drag coefficient is 0.34. As part of the aerodynamic refinement, the underbody panels are designed as such to contribution towards it similar to any other race cars.