Mazda held a ceremony to commemorate the start of production of the new Mazda6 (known as Atenza in Japan), fully redesigned for the first time in five years. The ceremony took place at the company's Hofu Plant No. 2, in Yamaguchi prefecture, Japan. Approximately 500 people gathered for the celebration, including Mazda's Representative Director and Chairman of the Board, President and CEO, Takashi Yamanouchi, executives, employees and a representative of the Mazda Workers Union. The first vehicle to come off the line was a Mazda6 wagon built to European specifications and powered by the SKYACTIV-G 2.0 gasoline engine.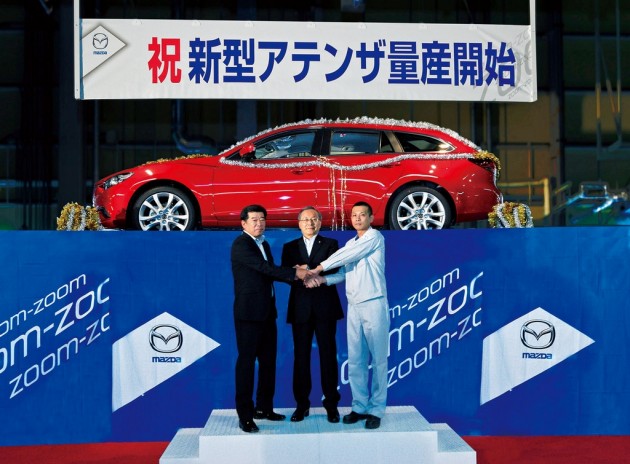 In his speech, Takashi Yamanouchi commented "I am deeply moved that production of the third generation Mazda6, the flagship model of our new-generation vehicles, starts in such an important year for us. It is the 30 year anniversary of the start of operations here in the Nishinoura district of the Hofu Plant and the 10th anniversary of the start of production of the first-generation Mazda6, back in 2002. That first Mazda6 debuted as an embodiment of Mazda's brand message, Zoom-Zoom, and its success led to great improvement in our brand image. The new Mazda6 that starts rolling off the line today features both SKYACTIV TECHNOLOGY and KODO – Soul of Motion design. Its development represents the very best of our engineering capability and our uncompromising attention to detail. Let's all work together to promote the new Mazda6, to make it a model that gains the support of customers all over the world and leads the Mazda brand to new level."
Representing all Hofu Plant employees, Masatsugu Ohgi from the Trim & Final Assembly Gr. No. 2 in the Vehicle Production Dept. No. 4 said "Incorporating everything we have learned about quality improvement through the production of nine million vehicles over 30 years at Hofu, we are determined to deliver a new generation Mazda6 that will outperform the previous model in every respect and stir the emotions of customers around the world."
The all-new Mazda6 is the first model to be equipped with Mazda's unique brake energy regeneration system, i-ELOOP. In all areas the development team tried to instill the essence of the Mazda brand, the joy of nimble handling that responds precisely to the driver's intentions, while offering the class, style, quality and comfort people expect from a car in the CD segment.
The new Mazda6 will be introduced to Europe and Japan before the end of 2012, followed by other markets starting with the US at the beginning of 2013. Mazda is planning to produce approximately 120,000 units of the Mazda6 per year at the Hofu Plant.
Mazda will premiere the new Mazda6 sedan with Russian specifications at the Moscow International Automobile Salon 2012, which opens on August 29, 2012.