Over the weekend on last week from 11-15 July 2012, Sime Darby Auto Connexion has showed off completely redesigned and technology packed all-new Ford Focus at Sunway Pyramid, Blue Concourse, Lower Ground 2 in Malaysia.
Accordingly, the all-new Ford Focus sets a new standard in the mid-size segment with its new smart technologies, improved fuel economy, great design, responsive performance and unique safety features.
Ford also announced that the Malaysia market price will range between RM120,000 to RM135,000 for the four all-new Focus 2.0L Ti-VCT high-series models:-
– 4-Door 2.0L Ti-VCT Titanium
– 5-Door 2.0L Ti-VCT Sport
– 4-Door 2.0L Ti-VCT Titanium+
– 5-Door 2.0L Ti-VCT Sport+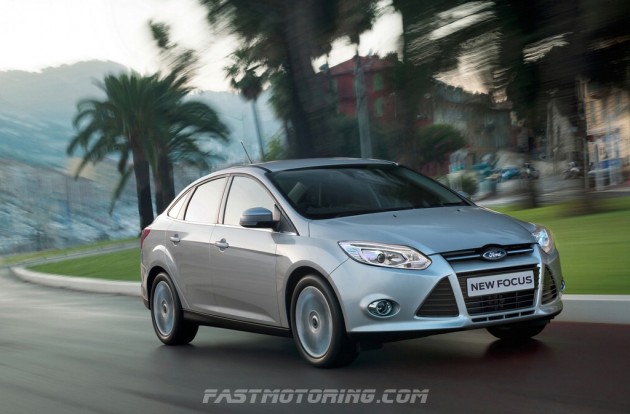 All customers pre-ordering an all-new Ford Focus now in Malaysia will have a chance to win an all-new Focus (hatchback) in leading up to the Malaysia launch this year. They will also receive shopping vouchers worth RM500 upon registering the vehicle.
"The all-new Ford Focus represents the strengths and benefits of our global One Ford strategy in serving our customers across the region," said David Westerman, regional manager, Asia Pacific, Ford Export & Growth Operations.
"We've gone further in every aspect of this next-generation vehicle to give our customers smart technologies, safety, quality and fuel efficiency beyond their expectations. We are confident that Malaysian drivers will love the performance, design and handling of this fun, smart car."
The all-new Focus features a wide array of advanced features and smart technologies that are first-in-segment, including Ford's award-winning voice-activated SYNC© connectivity package, Active Park Assist, Active City Stop and Blind Spot Information System (BLIS). The Active City Stop and BLIS are the safety feature that similar to the new Volvo car series. Apart from Volvo cars, Ford is the second automaker that does it so far.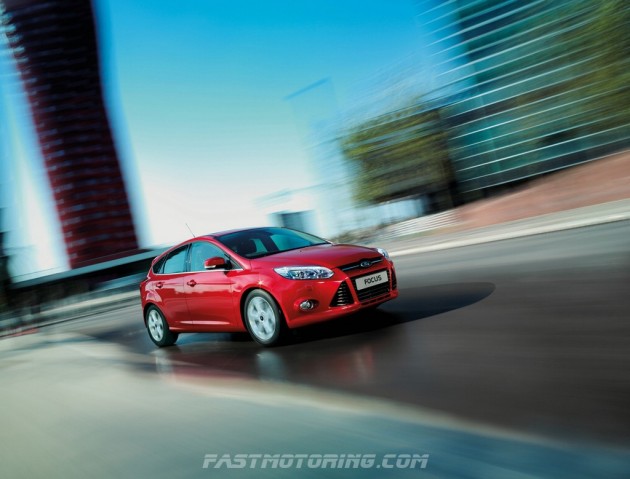 Ford SYNC provides hands-free, voice activated in-car connectivity. This award-winning system allows drivers to make calls, send and receive text messages and play their favourite music via voice commands and a steering wheel-mounted control – all with eyes on the road and hands on the wheel.
At the touch of a button, the all-new Ford Focus driver can Active Park Assist and parallel park the car totally hands-free, as this system uses sensors around the Focus to help identify an appropriate spot and then automatically steer it into the space. The driver controls the accelerator, brake and gears.
The Active City Stop collision-mitigation system provides drivers additional, enhanced safety by monitoring the road ahead for stationary traffic and breaking automatically if sensors detect the car in front has stopped unexpectedly.
At speeds up to 30 km/h, a sensor scans the area ahead of the Focus for possible obstacles. If the Focus approaches a braking, slower-moving or stationary vehicle in front and it determines that a collision is likely, the brakes are pre-charged. If the driver remains inactive (no steering or braking input), the car applies the brakes automatically and reduces engine torque.
Ford's Blind Spot Information System (BLIS) improves driver awareness by alerting them to situations when a passing vehicle is hidden in their blind spot zones on both left and right sides of the vehicle.
The all-new Focus boasts a completely new Duratec Ti-VCT GDi petrol engine with 6-speed PowerShift (dual clutch) automatic transmission that delivers 20% more power than the previous model, while significantly improving fuel economy.
The all-new Focus also features the Active Grille Shutter system – which uses vents to automatically control airflow through the grille to the cooling system and engine – to significantly reduce drag and help reduce Focus wind noise at speed while contributing to improved fuel efficiency.
All-new Ford Focus owners will also appreciate the convenience of its 10,000Km service intervals. And as with all Ford passenger vehicles available in Malaysia, the all-new Focus will come with Ford's Extended Service Plan (ESP) to provide added peace of mind to customers at no extra cost.
Ford ESP is a free maintenance programme that covers parts and labour for up to three years or 60,000Km. In addition to routine inspection and maintenance services, Ford's ESP covers free replacements for normal wear-and-tear, including spark plugs, shock absorbers, engine belts, engine hoses, brake pads, brake linings and wiper blades.
Additional coverage includes replacement of fuel filters, engine air filters, brake fluids and engine coolant. These replacements are included in Ford's ESP at no extra charge and only original manufacturer (OEM) parts are used.
For even more protection, standard coverage for the all-new Focus also includes a 3-year or 100,000 km bumper-to-bumper new-vehicle limited warranty on selected items.