Mazda's all-new CX-5, launched in Europe in February 2012 and also recently launched in Malaysia, has been awarded the maximum five-star rating by the European New Car Assessment Programme (Euro NCAP).
[singlepic id=10624 w=620 h= float=]
This rating, alongside being named a "Top Safety Pick 2012" by the Insurance Institute for Highway Safety (IIHS) in the United States last March, confirms the all-new CX-5, which employs Mazda's new lightweight, highly rigid SKYACTIV-BODY, as among the safest cars in the world.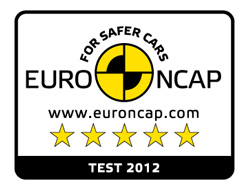 Since 2009, the Euro NCAP rating system awards an overall rating from zero to five stars. The rating is composed of scores in four categories; adult occupant protection (50%), child occupant protection (20%), pedestrian protection (20%) and safety assist (10%). The ratings in each category are based on the following tests: frontal impact at 64km/h, Car-to-car side impact at 50km/h, Pole side impact at 29km/h, Whiplash from rear end impact and pedestrian protection, and evaluation of the Electronic Stability Control (ESC). To be awarded a five-star rating cars must achieve high normalized scores in all four test categories. The CX-5 scored amongst the top performers in the small off-road 4×4 category despite the introduction in 2012 of higher standards in the pedestrian protection category and overall rating.
The CX-5 is the third Mazda to earn the Euro NCAP five-star rating since the introduction of the new rating system in 2009. It follows the European-spec Mazda6 (JDM known as Atenza) and the Mazda3 (JDM known as Axela).
[singlepic id=10623 w=620 h= float=]
The CX-5 is the first of Mazda's new generation of products to employ the lightweight, highly rigid SKYACTIV-BODY. Mazda engineers redesigned the body from scratch, rethinking the fundamental principles of structure, materials, and manufacturing methods, with the aim of the developing the ideal vehicle body. High tensile steel comprises 61% of the body and the bumper beams, which fit inside the front and rear bumpers, are made from 1,800 Mpa class steel—strongest in the world used in automobiles. Through this process Mazda achieved a body which is both extremely lightweight and exhibits excellent crash safety performance.
Photo Gallery: 2012 Mazda CX-5
[nggallery id=494]