The highly anticipated all-new Honda Jazz Hybrid is here! However, we are disheartened at beginning with now the official price of RM94,800 instead of RM85k OTR with insurance after the full exemption of import duty and excise duty for hybrid models. Yet, it is still the most affordable hybrid vehicle in Malaysia. So, it is still a good option to consider over Honda Insight and Toyota Prius C.
[singlepic id=9895 w=620 h= float=]
On 15 March 2012, Honda Malaysia added the all-new Honda Jazz Hybrid into Honda's family of hybrid cars in Malaysia. The Jazz Hybrid comes with a 1.3L i-VTEC engine + IMA hybrid system while retaining the key features of the standard Jazz such as Ultra Seat, Paddle Shift and a large boot space that emphasizes great practicality and space. It is a car that is small on the outside and big on the inside that maximises the joy of driving for the owners.
Speaking at the launch of the All-New Jazz Hybrid, Mr. Yoichiro Ueno, Managing Director and Chief Executive Officer of Honda Malaysia said, "The All-New Honda Jazz Hybrid was developed with the concept of 'Enhancing the fundamental qualities of the vehicle'. With its unique driving characteristics and practical features, the All-New Jazz Hybrid is targeted at eco-conscious individuals who are interested in a compact hybrid that caters to their fun driving and active lifestyle. It is also targeted at independent young professionals who recognize the value of advanced technologies packaged in a clean design. It allows them to strike a balance between fuel efficiency and an enjoyable driving experience." 
[singlepic id=3920 w=620 h= float=]
Practically, the new Jazz Hybrid is having the shell of Jazz and heart of the Insight. The IMA battery pack and Intelligent Power Unit (IPU) have been integrated under the boot floor area, keeping the normal boot (above floor) area of 300 litres and allowing the Ultra Seat to fold in the same manner as the non-hybrid versions.
[singlepic id=3917 w=620 h= float=]
According to Honda Malaysia, the Honda IMA system has proven itself to be a flexible and dependable system with almost 20 years of development and 10 years of sales. Till date, close to 800,000 Honda hybrid cars are on the road all over the world.
[singlepic id=3915 w=620 h= float=]
Safety aspect, the all-new Jazz Hybrid comes with 6 airbags and intelligent Hill-Start Assist function. The Hill-Start Assist function is a confidence-enhancing feature that helps prevent roll back when starting from a stop on a hill.
[singlepic id=4079 w=620 h= float=]
Because it is a hybrid vehicle, the Jazz Hybrid got a 'green' makeover. The car comes with a glove box cooler, chrome grille with blue reflector, chrome rear garnish, rear LED lights with blue highlight, 15-inch Alloy Wheels, Multi Information Display (MID) and Charge Assist Indicator.
Honda Malaysia offers this model with 5 colour choices – Fresh Lime Metallic, Alabaster Silver, Milano Red, Crystal Black Pearl and Taffeta White. The All-New Jazz Hybrid comes with a 5-year or 140,000km warranty for IMA battery which is the same with the Insight and CR-Z. Plus, standard 3 years or 100,000km warranty apart from the IMA battery.
Lastly, Honda Malaysia targets to sell 3,000 units of the All-New Jazz Hybrid by the end of this year and will continue to introduce more new hybrid models to excite Malaysians. The target for the total hybrid series is 10,000 units for year 2012.
Price List for Honda Jazz Hybrid for Peninsular Malaysia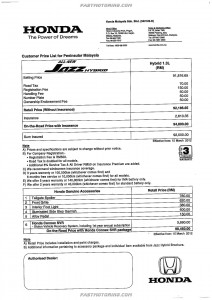 Photo Gallery: Honda Jazz Hybrid Malaysia Launch
[nggallery id=461]
Photo Gallery: 2011 Honda Jazz/Fit Hybrid
[nggallery id=148] [nggallery id=160]