Not too long after the Toyota Prius C (known as 'Aqua' in Japan) went on sale in Japan, this particular model has begin rolling out to other regional market gradually.  According to Toyota Japan, the introduction of the Prius C is aimed to make the Toyota hybrid cars more affordable. Precisely, to be even more reasonably priced than the Honda Insight 1.3 IMA. Prior the launch, we are shocked to see the price is higher than its rival in Malaysia.
[singlepic id=9508 w=620 h= float=]
Now, we are glad to know the price of the new Prius C was essentially positioned correctly after the launch @ RM 97,000 on-the-road. Indeed, the estimated price was previously announced @ RM 103,990 earlier before the launch by UMW.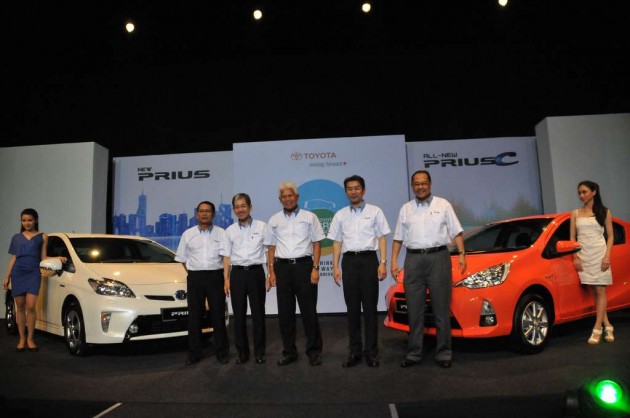 In addition, the new facelift model of Toyota Prius also launched together with the new Prius C during the event yesterday. The price for the all-new Prius C starts at RM 97,000 on-the-road with insurance, while the Prius Standard is priced at RM 139,000 and the Prius Luxury variant at RM 145,000. According to UMW, the company is targeting sales of 1,500 units for the new facelift Prius and 2,500 units for the Prius C in 2012.
The Prius C is powered by a state-of-the-art, small, light and efficient 1.5-litre (1,496 cc – Engine Model: 1NZ-FXE) Toyota hybrid system with reduction gear. It comes with a selectable electric-vehicle mode (EV Mode) enables driving with only the electric motor. The maximum output @ 73kW from the hybrid powerplant.
The aerodynamic styling provides a comfortable interior in a compact body. The hybrid battery (Nickel-metal hydride (NiMH)) has been placed under the rear seat for maximum occupant and luggage space. The hybrid unit and engine are positioned to create a low centre of gravity for easy manoeuvring. Somehow, the overall package is feature-rich (from performance to safety aspect) and attractively priced.
Meantime, you can also check out our previous article about the new Prius C. Please stay with us to keep you updated more about the new Prius C.
Photo Gallery: 2012 Toyota Prius C
[nggallery id=433]
Photo Gallery: 2012 Toyota Prius C Malaysia
[nggallery id=446]