Perodua sold some 180,000 vehicles, consisting of 30% of the total industry volume in 2011 and maintained as the most preferred automotive brand for 6 years in a row in Malaysia. The new Myvi models sold nearly 78,000 units last year follow by its 2 other models – the Viva and Alza.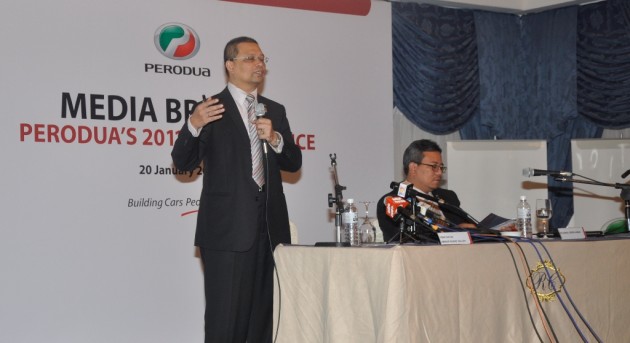 Perodua Managing Director, Datuk Aminar Rashid Salleh said Perodua has set a sales target of 188,000 this year or a 4% increase from 2011 on the back of better standard operating procedures from Perodua as well as aggressive promotions throughout the year.
"We are confident that, barring any unforeseen circumstances, we can meet this target," he said at a media briefing here today.
Aminar added that Perodua is also doing well in terms of after sales as the national car company recorded its highest ever service intake of 1.67 million vehicles in 2011; this translates into a market share of 51% of Perodua vehicles currently in operation. He also revealed that Perodua has doubled its exports to 8,000 vehicles in 2011 from 4,000 vehicles in 2010.
"We aim to further boost our exports this year to 10,000 units by further increasing the export volume to the countries that we are currently in as well as exploring new markets," he said.
Aminar said that under the Perodua's 5-year road map, the company aims to quantum leap its exports to some 20,000 vehicles by 2015.  Currently, Perodua export its cars to 7 countries – Singapore, Brunei, Mauritius, Fiji, Sri Lanka, the UK and Nepal. It also exports its Myvi model to Indonesia under the Daihatsu Sirion badge.
In addition, Perodua also aims to further boost its customer satisfaction by improving the quality of its service on both sales and after sales. Aside from better training its human capital resources to be more efficient and knowledgeable, Perodua will also build its new flagship 3S centre in Section 19, Petaling Jaya as a model of its future sales and service centres nationwide.