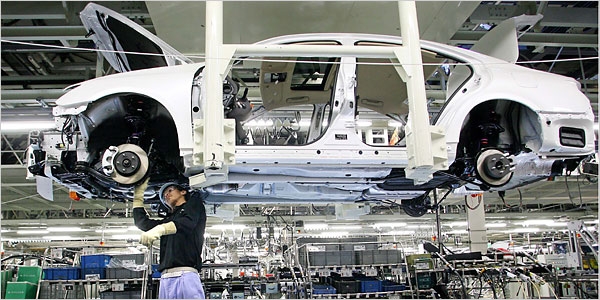 In Japan, the new vehicle sales tumbled more than a quarter in October, suffering the steepest year-on-year fall in 18 months as subsidies for green cars ended, an auto industry group said Monday.
Sales of new vehicles, including cars, trucks and buses, totalled 193,258 units in October, down 26.7 percent from a year earlier, according to monthly data from the Japanese Automobile Dealers Association. The decline, which followed a 4.1% fall in September, is the biggest fall since a 28.6% drop registered in April 2009. It was also a record fall for the month of October, the association said.
In early September, the Japanese government said it had ended a popular subsidy to encourage motorists to buy eco-friendly cars, a measure that had boosted demand in the wake of the crippling effects of the financial crisis.
Moreover, a strong yen grind down exporters' incomes as their products are more expensive and less competitive abroad.